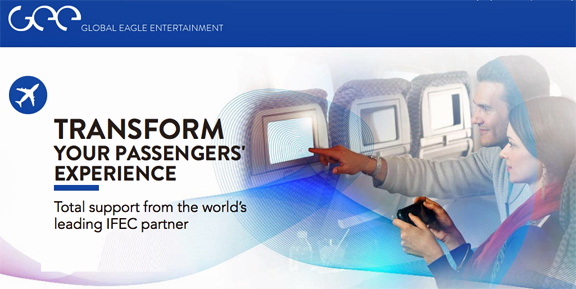 [SatNews] Global Eagle Entertainment Inc. (Nasdaq:ENT), a worldwide provider of content, connectivity and digital media solutions to airlines, has been selected by Hong Kong Airlines to provide inflight entertainment (IFE) and content services for their entire fleet.
Global Eagle Entertainment (GEE) delivers to Hong Kong Airlines (HKA) an array of regional and international content including movies, TV programming and audio for their seat-back and wireless AVOD systems. HKA is an internationally acclaimed carrier and flies routes throughout Asia, including Beijing, Shanghai, Sanya, Bangkok, Bali and Okinawa.
To enhance the content onboard HKA, GEE also provides a catalog of regional and international digital publications for the airline's digital wireless eReader. Local and international publishers have been instrumental in helping to make the deployment of digital publications possible, including Asia Review of Books, Bookworm Club, Haymarket Media Limited, Hwa Ker Publishing Co. Ltd., New Media Group, and Random House LLC.
The Global Eagle Entertainment infosite offers additional information at http://www.geemedia.com/
To learn more about Honk Kong Airlines, please visit http://www.hongkongairlines.com/en_HK/homepage