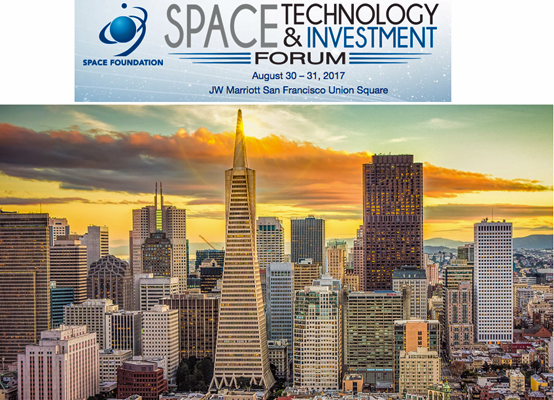 The power of success in our broad range of industries is highly dependent upon having the most reliable and up-to-date information from subject-matter experts to help businesses gauge the correct pathways through the miasma of challenges that face today's satellite and space entrepreneurs and leading companies.
One major trade event that assists with these endeavors is Space Foundation's Space Technology and Investment Forum that is being conducted from August 30 to 31 at the JW Marriott, Union Square, in San Francisco. Visionary, to say the least, and highly insightful.
This event presents a rich platform for speakers from well-established firms as well as offering eight notable startups a forum within which they can present their technologies and ensure attendees are aware of their leading efforts. With one day remaining for this event, it's never too late to join in the "learning" — simply access this direct link to register online to attend this important forum.
The second day of the forum will feature...
Master Moderator:
New Space: A Gold Rush or Fool's Errand?
Featured Speaker:
Ed Swallow
, Senior Vice President, Civil and Commercial Systems
The Aerospace Corporation
9:25 to 10:25 a.m.
Panel: NASA iTech as a Model for Stimulating Innovation
Moderator:
Kira Blackwell
Program Executive, Office of the Chief Technologist, NASA Headquarters
Panelists:
Sean Caffey
Co-Founder and Chairman, Context AI
Francisco Cruz
CBRN Consequence Management Advisory Division, U.S. Environmental Protection Agency (EPA).
Hadi Ghasemi
Assistant Professor, Department of Mechanical Engineering, University of Houston
Peter Kim
Vice President, Sheikh Zayed Institute for Pediatric Surgical Innovation
Jose Ocasio-Christian
Chief Executive Officer, Caelus Partners, LLC
Harry Partridge
Center Chief Technologist, NASA Ames Research Center
10:40 to 11:00 a.m.
The Future of Human Spaceflight and Space Investing
Featured Speaker:
Amir Blachman
Vice President of Strategic Development, Axiom Space
11:00 a.m. to 12:20 p.m.
Panel: International Investment in Space Activities
Moderator:
Dara Panahy
Panelists:
Hidetaka Aoki
Partner, Space & Robotics, Global Brain
Thomas Dittler
Venture Partner. Dittler Industriebeteiligungen GmbH
Pierre Franck
Consul General, Luxembourg
Rainer Horn
Managing Partner, Munich, SpaceTec Capital
12:20 to 1:35 p.m.
Luncheon: Connecting the World: Facebook's Mission to Bring People Closer Together
Featured Speaker:
Janna Lewis
Strategic Innovation Partnerships & Sourcing, Facebook
2:00 o 3:00 p.m.
Panel: Commercializing Space Tech – Opportunities for Profit
Moderator:
Lloyd Starks
Panelists:
Alan Mittelman
President & CEO, Eagle Eye Optics
Ed Rosenthal
Founder and Chairman of the Board, Florikan ESA
Joseph Urso
Chairman & Chief Executive Officer, Aerus Holdings LLC
3:00 to 3:30 p.m.
Featured Speaker:
Steve Butow
West Coast Military Lead, Defense Innovation Unit Experimental (DIUx)
3:45 to 4:50 p.m.
Panel: Financing Innovation: Other Means of Funding
Moderator:
Jeanette Quinlan
Managing Director, Starburst Aerospace Accelerator
Panelists:
Shubber Ali
Joseph Fargnoli
Senior Managing Director, New York Space Alliance
Garrett Goldberg
Chris Moran
Executive Director and General Manager, Lockheed Martin Ventures
The Twitter hashtag for the event is #SpaceTechForum.