A week before the Satellite 2017 show, the world was sold the idea of the utopian dream of unprecedented global connectivity; however, there were other announcements signaling a shift in the way business will be done going forward.
The introduction of the KALO service by Intelsat and Kymeta is an example, as it signals the satellite industry's shift from a 'Infrastructure-as-a-Service' model. Partnerships of this kind are a sign of shifting sands in SATCOM, as the industry slowly, but surely, moves toward ensuring long-term survival via data demand and delivery.
The surge in demand for connectivity-on-the-move has been a major trend for the satellite industry this decade, and it is also a market where SATCOM has an edge over terrestrial networks, especially in aeronautical and maritime communications. However, a critical component of satellite mobility for closing communication links efficiently is the antenna at the user segment of the network. As HTS packs more bits/Hz than ever before, the efficiency with which such throughput can be pushed to the user continues to be debated by service providers, antenna manufacturers, and modem suppliers.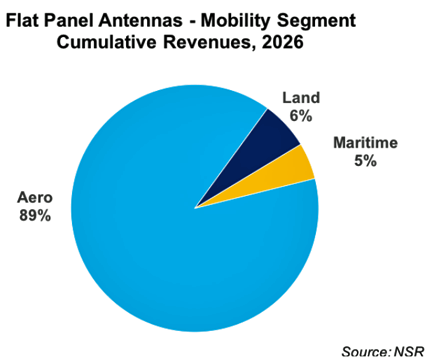 NSR's Flat Panel Satellite Antennas (FPA), 2nd Edition report projected a cumulative revenue opportunity of $9.1 billion for FPA manufacturers till 2026, with mobility applications driving the majority of demand. The report also showed an asymmetry in the market value of FPAs within the mobility segment, with aeronautical connectivity expected to contribute 89 percent of the mobility FPA sales revenues.
The story of aero connectivity for FPA manufacturers has been a fairy tale until now, as 'passenger connectivity' was the buzzword to retrofit airplanes with these antennas. But with most service providers struggling to turn a profit from this business and low WiFi take-rates continuing, the narrative of the business can soon be expected to focus more towards creating operational efficiency for airlines, as the connected world would not see Internet as a service, but a right.
And that is where FPA manufacturers will have another mountain to climb, by positioning their product in a Platform-as-a-Service model and enabling Big Data-driven efficiencies for airlines, along with the satellite operator and service provider. NSR believes this should be easier today with partnership models and ongoing consolidation (like GEE acquiring Masflight and its relationship with EchoStar-Hughes) the industry has adopted.
The same story goes for land and maritime mobility, as hardware is bundled in packages that enable delivery of microservices on top of it. But while all such business models continue to evolve rapidly for fitting into the 'connected future', as envisioned by the likes of SoftBank's Masayoshi Son, FPAs and other associated ground equipment manufacturing ecosystems should also be agile and match each vertical market's need with customized products, or risk losing the game for the entire commercial satellite mobility industry.
The satellite industry is in a transient phase — low capacity prices, ongoing consolidation, new products on the block, and even newer business strategies that have rattled the old guard from satellite's video-centric days. These ongoing satellite industry changes provide a plethora of opportunities for new product companies in the value-chain, as there will be more than one path to success for the industry as a whole.
Mobility is an area where the odds favor satellites over terrestrial competition, and FPAs are essential for verticals like aeronautical connectivity, which NSR sees as the niche that satellites will primarily occupy in the future connected world. However, FPA makers should get out of the 'aerospace growth rate' syndrome – where product development cycles are long and a market assured, because it will not be the case in the connected world, where success metrics will be measured in terms of the availability, quantity, and velocity of data enabled by these FPAs.

Report by Prateep Basu, Analyst, NSR India