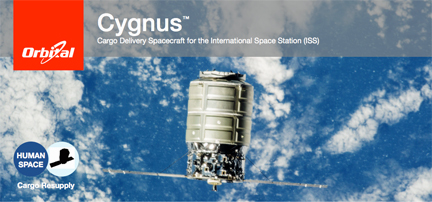 [SatNews] Following an inspection of the tracking station in Bermuda used for Antares launches after Hurricane Gonzalo, Orbital and NASA together have established October 27th as the launch date for the upcoming Orb-3 Commercial Resupply Services (CRS) mission to the International Space Station (ISS).
The mission will originate from the Mid-Atlantic Regional Spaceport (MARS) at NASA's Wallops Flight Facility in eastern Virginia. Lift-off of the Antares rocket is scheduled for 6:45 p.m. (EDT), with rendezvous and berthing with the ISS early in the morning on November 2nd. Taking advantage of Cygnus' operational capabilities, Orbital is launching the Orb-3 mission to orbit several days earlier than necessary to preserve schedule flexibility and time its arrival at the station to conform to other visiting vehicle operations.
The Cygnus spacecraft is fully fueled and loaded with most of its cargo bound for the ISS and has been mated with the Antares rocket that will launch it into LEO. The remaining time sensitive "final load" cargo will be placed onboard tomorrow, prior to fairing encapsulation, which is also scheduled for October 23rd. On Friday, October 24, the Antares rocket will be rolled out from the Horizontal Integration Facility to the MARS launch pad 0A located about a mile away from the launch pad itself.
Orbital has named the Cygnus spacecraft for the Orb-3 mission the SS Deke Slayton in honor of the decorated U.S. Air Force pilot, NASA astronaut, and early champion of America's commercial space program.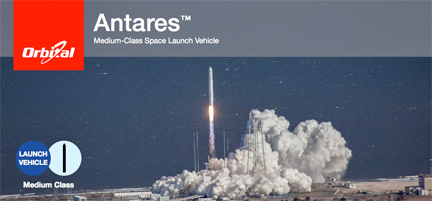 The Orb-3 mission represents the fifth launch of the company's Antares rocket in its first 18 months of operations. It will also be the fourth cargo delivery mission to the ISS by a Cygnus spacecraft, including the 2013 demonstration flight. For Orb-3, Orbital will deliver its largest load of cargo to date, carrying approximately 5,050 pounds (2,290 kilograms) of cargo to the ISS for NASA. At the conclusion of the Orb-3 mission, the company will have carried a total of 13,378 pounds (6,078 kilograms) of essential supplies, equipment and scientific experiments to the ISS and will have removed 13,444 pounds (6,097 kilograms) of disposal cargo, a vital capability for the maintenance and operation of the Station.
The two-stage Antares space launch vehicle uses a liquid-fueled first stage powered by two Aerojet Rocketdyne AJ26 engines and a solid motor ATK CASTOR 30XL upper stage to boost Cygnus into orbit. The powered launch sequence will last about nine-and-a-half minutes from liftoff through the separation of Cygnus from the launch vehicle. This mission is the first to use the larger, more powerful CASTOR 30XL second stage motor.
The Orbital infosite may be accessed at http://www.orbital.com/