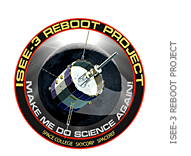 [SatNews] "By preserving our technical past as we have with the LOIRP project we help to provide a snapshot in time of our nearest celestial neighbor in a way that can never be repeated."
International Sun/Earth Explorer 3 (ISEE-3), a spacecraft that studied weather and was made famous in 1985 for being the first ever to visit a comet, is in motion to become useful again. Using over $150,000 in funds raised by enthusiasts through crowdfunding, a group of scientists are communicating with the satellite, using thrusters to change its trajectory, and aiming to send the satellite into halo orbit using our moon's gravity on August 10.
Skycorp, Inc. CEO and Lunar Orbiter Image Recovery Project founder Dennis Wingo spearheaded the ISEE-3 Reboot and signed with NASA Director S. Pete Worden the Non-Reimbursable Space Act Agreement (NRSAA), which essentially allows the ISEE-3 Reboot team to attempt to commandeer NASA's satellite.
"By preserving our technical past as we have with the LOIRP project we help to provide a snapshot in time of our nearest celestial neighbor in a way that can never be repeated," writes Wingo on the project's Rockethub crowdfunding page. "This has also been a way to bring our older retired engineers together with young, eager science and engineering students to provide a mentoring effect that has been so lacking in our culture of late. It is the continuity between the generations that is as important as understanding our deep past that will allow us to move forward into the future."
Team members obtained the necessary power amplifier, modulator, and demodulator and installed the hardware into the Arecibo dish antenna in Puerto Rico on May 19. Thanks to solar panels, the ISEE-3 was found alive and functioning. As the probe has no computer, scientists and engineers made contact with radio signals, using software to emulate sequencers.
"There's basically one place people go to build an affordable Software Defined Radio (SDR)-based systems, and that would be Ettus Research, maker of the USRP product line," writes team member John Malsbury on his personal blog. "And typically when people use a USRP, they use it with GNU Radio. SDR allows you to implement functions that had been previously implemented in specific, tuned RF circuits in software."
Malsbury goes on to explain that the simple, affordable hardware includes a "USRP N200 which contains an SBX motherboard. The N200 is connected to a laptop via Gigabit Ethernet. The output of the USRP (~ 2.05 GHz) is transferred to the transmitter room in the Gregorian dome of the dish via an RF-over-Fiber system. The signal drives a 400 W S-band amplifier, whose output is finally transmitted off the dish."
If the mission is successful, Skycorp, Inc. intends to pursue STEM (Science, Technology, Engineering, Math) educational activities. The latest project update was posted July 10 at 1:12 p.m. by team member and NASAWatch Editor Keith Cowing. ISEE-3 Reboot is seeking out theories from scientists and enthusiasts as to why propulsion system problems persisted on July 9.
"One of our volunteers, Karl-Max Wagner from Germany has an interesting idea," writes Cowing. "Did the Nitrogen pressurizing gas dissolve in the Hydrazine in the tanks? This is important. Don't just throw stuff on the wall, help us research this." The mission is on an extremely tight schedule and, should it fail in the coming weeks, the old satellite will be lost to the sun's orbit for thousands of years.
Visit the ISEE-3 Reboot project page on Space College or visit their official Twitter page to contribute serious theories, learn more information about the mission and team members, and read the latest status updates.