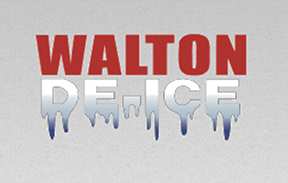 Walton De-Ice has sold and shipped their new Walton Portable Radome product recently for deployment with a U.S. Government agency and a European defense agency in separate customer projects.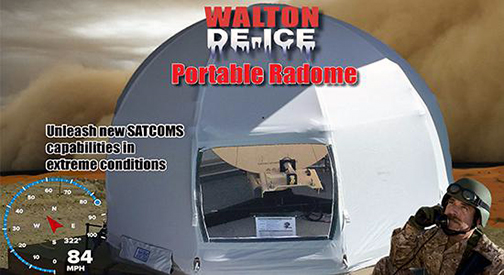 The lightweight, rapidly deployable Walton Portable Radome protects VSAT, transportable, or fixed antennas and equipment from rain, snow, ice, wind, sand, debris and heat — making satellite networks more survivable and deployable into extreme environments. An RF-transparent hydrophobic cover protects antennas and equipment under the Walton Portable Radome.

Performance and cost advantages of the Walton Portable Radome include:
Airline baggage checkable options let terminals go where other radomes cannot.
Rapidly assembled by a single person in less than an hour with no tools — unlike traditional radomes, which can require a crane, crew and days to install.
Operational in high winds, e.g. 85 mph (136 kph) depending on size — unlike inflatable radomes.
Heating or Air Conditioning options can protect equipment under the dome from damage in extreme heat.
A video about the Portable Radome is available at this direct link...
Walton De-Ice is showcasing their Portable Radome and other solutions at the Satellite 2019 trade show, stand #1619, at the Washington, DC, convention center.
David Walton, inventor of the Walton Portable Radome, said the product unleashes new capabilities for deployment of satellite links into extreme environments and lets satellite networks protect their equipment in conditions such a high winds, sand storms, dust storms, hailstorms and torrential rains, as well as winter snow and ice. The company is pleased that a growing number of large government and military contractor customers see the unique advantages that the Walton Portable Radome can enable for their end-customer's applications around the world.