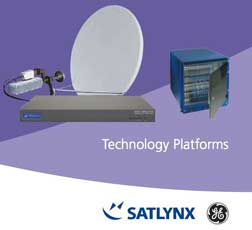 Satlynx has teamed up with Arabsat to deliver a fully redundant satellite network that provides the foundations of a new extensive communications platform for the Central Bank of Iraq.
Satlynx is a GE company that is a major provider of satellite telecommunications and Satcom is the largest Middle-East satellite operator.
The main contractor for this
World Bank funded US$2.7 million project
is Luxembourg-based Iraqi owned firm,
Alfa Consult
. The network interconnects two Central Bank of Iraq locations in Baghdad with seven other remote banks in
Basrah, Mosul, Anbar, Kirkuk, Najaf, Hilla and Karbala.
It forms the backbone over which the Iraqi Payment System (IPS) will run, enabling secure and rapid financial transactions to take place across the country to the benefit of the Iraqi economy.
"This is just the latest in a series of investments in the essential communications infrastructure of Iraq," declared Mr.
Saleh M. Salman
,
Head of Payments Dept. at the Central Bank of Iraq
, "the IPS system will cut the time required to process financial transactions in Iraq, thanks to the satellite system put in place by Satlynx and Arabsat."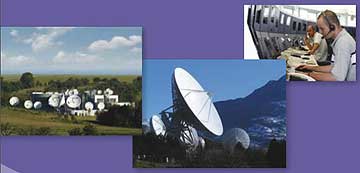 The solution is based on the Satlynx Direct satellite platform, built around
iDirect technology,
with the main hub based at Satlynx's fully secured Teleport in
Leuk, Switzerland
. The Satlynx Direct platform with significant cost efficiency through bandwidth optimization enables two-way communications between the main sites in Baghdad and the remote sites throughout Iraq.
Photo: Satlynx is headquartered in Luxembourg and has teleport and operational centres in Backnang, Germany and Leuk, Switzerland.
Full redundancy is provided at every level of the network, with two satellite terminals installed by Alfa Consult at each location and satellite coverage provided primarily via Arabsat's BADR-4
@ 26°East, with a hot stand-by option on a secondary satellite system.
The decision to base the network on satellite rather than terrestrial connections was an easy one given the unreliability of the infrastructure that remains after decades of neglect and the destruction that has taken place during the recent upheaval in Iraq.
Prime contractor
Alfa Consult'
s Mr.
Salar Zahed,
Vice President, Director of Marketing
, added "The lack of infrastructure has also meant that we had to cope with frequent power outages throughout the installation stages, but nonetheless, we were able to get the job done and deploy a secure and working network thanks to the Satlynx solution".
Ronny Svang
, President and
CEO of Satlynx
is keen to stress the partnership aspect of the project: "All three organizations – ourselves,
Alfa Consult and Arabsat
– have worked closely together on this vital project and will continue to do so to ensure its long term success – a critical infrastructure component for the Iraqi economy. For our part, we will ensure that the network is monitored with meticulous diligence to ensure continuous service availability".
Khalid Balkheyour
,
President & CEO of Arabsat
, added "As a body of the Arab League, we believe it was definitely Arabsat's role to actively support such an essential project that will constitute yet another important milestone in the recovery of the Iraqi economy."
"We're extremely proud to have been able to join forces with a long-time key and reputable partner like GE's Satlynx to provide the required space connectivity on our
BADR-4 satellite
, thus significantly contributing to enabling this critical data network with some of our primary capacity."
Satlynx is already operating many critical government and key NGOs' networks across the globe, including numerous major countries' embassies
and is now actively supporting the MEA region's public bodies rapidly growing infrastructure deployment needs by folding its 20-years legacy know-how into strategic partnerships with key regional players.