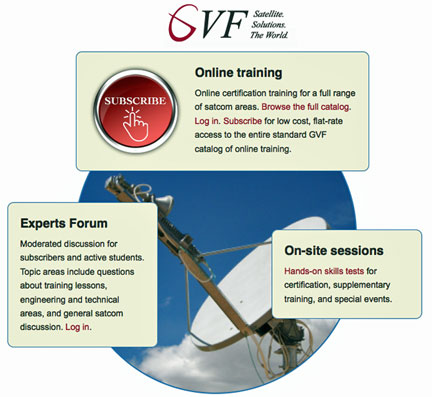 [Satnews] The importance of high-quality satellite Earth station installation, maintenance and operation is being reinforced in Southeast Asian markets through recognition of Telekom Malaysia's personnel as "GVF Advanced Professionals."
The company's engineering group has achieved the designation by completing comprehensive training and Certification for operation and support of VSAT systems.
GVF is the non-profit association of the satellite communications industry. The organization has been developing and providing training programs for thousands of satellite communications professionals for nearly a decade. In order to qualify for the Certification, Telekom Malaysia's personnel completed GVF-530, 531 and 532 for Basic Technical Operator Certification and GVF-510, 520 and 521 – followed by a Hands On Skills Test (HOST)—for Advanced Satcom Professional Certification. Telekom Malaysia's personnel engaged the training through GVF's online portal at www.gvf.org/training.

Telekom Malaysia of Kuala Lumpur entered into the program as part of an international industry initiative to promote best practice. The on-line courses used to support the program were prepared and are being administered by SatProf, Inc. GVF VSAT Installation & Maintenance Certification is the global industry standard for training installers of bi-directional satellite earth stations. It was created by a consensus of volunteers serving in the GVF Education & Training Working Group (E&TWG), whose mission is to identify, formulate and share knowledge that is beneficial to the VSAT industry, its shareholders and stakeholders.
"GVF Advanced Certification is a high bar," said David Hartshorn, GVF's Secretary General. "Telekom Malaysia's engineering and technical team has demonstrated that they have the skills necessary to install and operate satellite communications systems with the highest level of technical competency."

"Telekom Malaysia's CyberJaya DSNG Engineering Team has made a clear commitment to excellence through their achievement," said Christopher Sivertz, GVF's Master Instructor for Southeast Asia and Director of Bangkok-based S2C2 Satcom Co. Ltd.. "Their engineering and technical staff were successful in obtaining not only GVF's 'Basic Technical Operator' Certification, but also the distinction of 'Advanced Satcom Professional'."