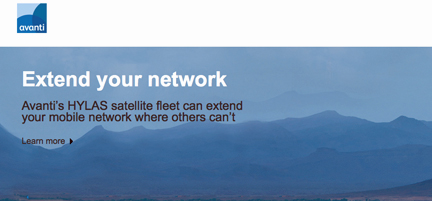 [SatNews] Avanti Communications Group plc. ("Avanti") (AIM: AVN.L) has completed contracts to purchase and launch the HYLAS 4 satellite.

The satellite will be built by Orbital Science Corporation, who built the HYLAS 2 spacecraft, which is currently outperforming its technical specification. The satellite will deliver up to 28GHz of capacity in 66 fixed beams positioned over Africa and Europe. Some capacity provides growth for existing markets, some provides brand new coverage and we retain the flexibility to move capacity between different markets. The satellite will also have four steerable beams which could serve markets in Latin America or Africa. The system represents a continuation of Avanti's strategy to prioritize Quality and Flexibility, and to ensure that customers receive World beating services at low prices.

The satellite is scheduled for launch in the three month period ending April 2017. HYLAS 4 will be launched by Arianespace, with whom Avanti has enjoyed a strong relationship through the launch of its first two satellites. The total cost to build, launch and insure the satellite is expected to be 15-20 percent below market expectations. Avanti conservatively estimated a budget of $350m when it issued the first of two tranches of a bond earlier in the year to commence the project and now that all costs except for insurance are contracted with firm fixed prices we are able to announce this saving. The company has also managed to secure a more favorable and flexible payment profile.

David Williams, Chief Executive of Avanti, said, "I am pleased to announce a continuation of a trusted and successful partnership with Orbital and Arianespace. The project is well financed and low risk. With commercial services expected to launch in 2017, Avanti has overwhelmingly the most powerful, broad and resilient Ka band coverage of Europe Middle East and Africa. Now that we are successfully selling services to the biggest telecommunications and media companies in our region, we have improving visibility over how we will continue to activate the underlying market demand on a large scale. This satellite is designed based on the requirements those customers have given us. The investment sends a powerful signal to our customers about our commitment to serve them throughout the entire continent of Africa."

David Thomson, Chief Executive of Orbital Science Corporation, said, "Orbital is honored and thrilled to be selected by David Williams and his team at Avanti to build their new HYLAS 4 satellite. This high-throughput/light-weight satellite will set a new standard for affordability and flexibility in its class, while also providing the high quality and dependability of Orbital's reliable GEOStar product line of over 45 geosynchronous spacecraft built or in production for many of the world's leading operators. We look forward to contributing to Avanti's future growth with the HYLAS 4 project."

Stephane Israël, Chief Executive of Arianespace, said, "Arianespace is proud to make a new step in its long-term partnership with Avanti Communications. After HYLAS 1 and HYLAS 2 launched by Ariane 5 in November 2010 and August 2012, we are now ready to launch HYLAS 4 early in 2017. I want to thank personally David Williams for Avanti's trust in Arianespace; this is a true recognition of the quality and competitiveness of our launch solutions, which we continuously improve to boost our leadership position on the market. We are also pleased to work with Orbital again; HYLAS 4 will indeed be the 27th satellite manufactured by Orbital and launched by Arianespace."
The Avanti Communications Group infosite may be accessed for more information at http://www.avantiplc.com/.
For more Orbital Sciences information, please visit http://www.orbital.com/SatelliteSpaceSystems/
Details at http://www.arianespace.com/ for more launch information.