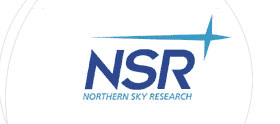 [Satnews] NSR's Machine-to-Machine (M2M) and Internet of Things (IoT) via Satellite, 6th Edition, which releases on October 20, finds the satellite M2M/IoT market reaching $1.2B in 2014, with the market expected to expand to over $2.3B by 2024.

The report finds lucrative opportunities arising from Shipping, Agriculture, Gov/Mil, and other key verticals across a number of regions and frequency bands, with Land Transport the largest industry revenue driver. NSR's latest study focuses on all industries pertaining to M2M & IoT, with the research finding an increased utilization of M2M for everything from asset monitoring to process optimization, and for the first time, M2M/IoT6 gives the reader a detailed breakdown of Land Transport, Maritime and Aeronautical units and revenues.

The Internet of Things (IoT) continues to penetrate every aspect of our daily lives, and while much of this market is served terrestrially, the sheer number of in-service units and the geographic isolation of many trans-oceanic shipping routes and rural regions indicates a solid market for satellite to address.
Overall, M2M/IoT via satellite has significant room for growth, and with the plethora of options available to serve this demand, there are likely to be a large number of niche markets. Lower data rate M2M requirements are more likely to remain on MSS, but there a small number of in-service units will require more throughput and are thus more appropriate for FSS Ku-band or GEO/Non GEO-HTS, for example. Ultimately, the $2.3B market for M2M & IoT via satellite offers opportunities and pitfalls, all of which are discussed in detail in this industry standard NSR report, with data on 11 verticals in 9 regions across 5 types of capacity, paving the way for success in satellite M2M/IoT decision making.
Executive Comment
"While terrestrial options become more competitively priced than ever before, Satellite M2M usage remains strong and growing overall at 6.9 percent CAGR for active terminals", said Alan Crisp, NSR Analyst and report author. "However, low-cost terrestrial alternatives are entering the market and targeting units with ARPUs as low as $1 per month. Fortunately for satellite operators, there is very little overlap with satellite for this low cost market," added Crisp.