[SatNews] "This study paints a grim picture of the impact on emerging economies in Africa from a change to current satellite spectrum allocations,"
A new report from Euroconsult, the Paris-based technology consultancy, shows just how much African nations rely on C-Band satellite services for television, Internet access, banking, energy production, civil aviation and government operations, and demonstrated the potential damage to economies and civil society of attempts by the mobile and wireless industry to gain access to C-Band spectrum.
Mobile industry lobbyists are seeking to open portions of the satellite spectrum for sharing with terrestrial transmitters through filings with national regulators leading up to the 2015 World Radiocommunications Conference. Sharing such frequencies between space and terrestrial communications is not feasible, however, because the strength of terrestrial transmissions will overwhelm signals from space, ensuring that vital space-based communications would be taken off the air.
"This study paints a grim picture of the impact on emerging economies in Africa from a change to current satellite spectrum allocations," said Society of Satellite Professionals International Executive Director Robert Bell. "Following on the heels of an LS Telecom study showing that 30 percent of the spectrum already allocated for mobile remains unlicensed, it strongly supports the importance of a 'no change' vote from national regulators everywhere."
SSPI's "How Satellites Make a Better World" campaign is currently highlighting the tremendous economic, business and humanitarian benefit of satellite-based services, and the Euroconsult study further dramatizes the essential role of satellite in the global economy.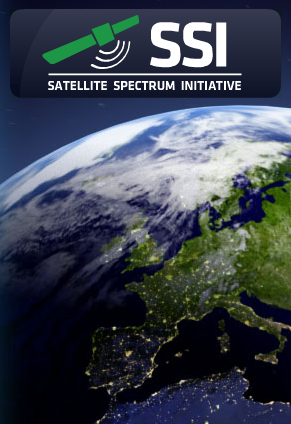 Copies of the full report can be downloaded from the Satellite Spectrum Initiative infosite, where complimentary access to related studies is also provided by the global campaign launched by the satellite industry. Coordinated by GVF and supported by SSPI, numerous other industry organizations, and user groups, the campaign welcomes involvement in this critical issue.
Euroconsult, which recently confirmed similar reliance on C-band satellite in the Asia region, examined three country markets representative of the diverse economies of southern, western and central Africa, and found that – in addition to the millions of consumers who rely on C-band television – the wireless, banking and finance, energy production, civil aviation, and government sectors were particularly reliant on satellite networks using C-band spectrum, which is prized for its reliability and scope of coverage.
A sample of African uses of C-band networks described in Euroconsult's report included:
Nigeria: The National Broadcasting Commission (NBC) of Nigeria says TV households reached 11.2 million in 2013, representing a 33 percent penetration, and they are highly reliant on C-band satellite capacity, principally for contribution to earth stations. Given the fact that terrestrial reception remains the principal TV reception mode for a large part of the population, C-Band is required for the Nigerian television industry to operate.
Democratic Republic of the Congo: For DRC's 25 - 30 million mobile subscribers, satellite remains a primary option to connect a large part of mobile networks, and ISPs are currently using C-band capacity as primary backbone network for International connectivity. This is despite the introduction of the West African Cable System (WACS) rollout, which has highlighted a number of issues with data-rate availability and transmission reliability.
Angola: According to IMF, oil revenue accounted for almost 80 percent of total government revenue and grants in 2011. As most of the oil exploration in the country is through deep-water projects, VSATs are a major communication channel for the industry. C-band is preferred, as the oil fields in the west coast are affected by high rainfall and energy companies typically require reliability levels above 99 percent.
All three nations have recently recorded increasing foreign investment that has contributed to a boosting of their economies in various sectors including banking, which has primarily supported the opening of new banks and ATM networks with C-band satellite connectivity due to its higher reliability, as well as C-band FSS which is considered important for the digital migration of terrestrial TV through video distribution and contribution links.
The report notes that C-band communications benefit from two physical characteristics that make it central to Africa's environment: resistance to "rain fade" and availability of wide beams. As a result, billions of dollars have been invested in C-band satellites over Africa, providing almost half of the total satellite capacity used in the region.
For more information, please visit the Society of Satellite Professionals International infosite http://www.sspi.org/