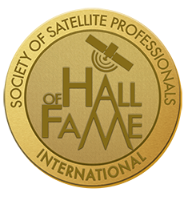 [Satnews] SSPI today announced six new inductees for the 2016 Satellite Hall of Fame.
They will join more than 40 Hall of Fame members including Dr. Arthur C. Clarke, Dr. Harold Rosen, Olof Lundberg, Eddy Hartenstein, Frederic d'Allest, Sidney Topol, Takayushi Yoshida, Mary Ann Elliott, Mary Frost, Peter Jackson, Dick Tauber, Dirk Breynaert, Mark Dankberg, Susan Irwin and Robert Berry.
The 2016 honorees, in alphabetical order, are John Celli, President, Space Systems Loral; Richard Hadsall, Chief Innovation Officer, EMC; Penelope Longbottom, President, Longbottom Communications, a division of Sage Communications; Philip A. Rubin, President & CEO, RFK Engineering Solutions; Phillip Spector, Of Counsel, Milbank; and Andrew Sukawaty, Non-Executive Chairman, Inmarsat.

The Hall of Fame Ceremony will take place at the 2016 Hall of Fame Benefit Dinner on March 8 at the Gaylord National Resort & Convention Center in National Harbor, Maryland, where the Hall of Fame inductees will be presented with Ariane trophies courtesy of Arianespace. Learn more here.