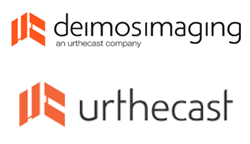 Deimos Imaging and UrtheCast have been awarded a GSA Multiple Award Schedule (MAS) 070 contract by the U.S. General Services Administration (GSA), the procurement arm of the federal government.
This is the first time that a European company in Earth Observation (EO) services has been awarded such a contract in the U.S., making Deimos Imaging's full portfolio of products and services available to all U.S. government agencies. In order to be awarded the GSA Schedule contract, Deimos Imaging and UrtheCast had to undergo an extensive and rigorous approval process and ensure its services are in compliance with all applicable laws and regulations.
As a recipient of the contract, Deimos Imaging can provide federal, state, local, tribal, and regional government agencies with customized and ready-to-use satellite imagery products and services, that are expected to contribute to decision making in a wide range of sectors, such as agriculture, oil and gas, maritime surveillance and defense and security.
The five-year GSA program establishes long-term government-wide contracts and allows federal customers to efficiently purchase Earth Observation products and services from Deimos Imaging under GSA IT Schedule 70, Special Item Number 132-41.
Jamie Ritchie, CCO at Deimos Imaging, said that this GSA contract empowers the firm's data strategy to unlock Earth Observation's full potential. Deimos Imaging has enjoyed a long, successful history of providing satellite products and services to public and private entities. Being part of the GSA schedule program allows the company's portfolio to be accessible to agencies across the U.S. and leverages Deimos Imaging's position to accelerate decision making in a wide variety of fields and to meet the needs of customers.