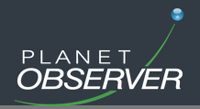 PlanetObserver
, a supplier of geospatial data for all civil and military visualization and simulation applications as well as GIS solutions, has released their PlanetSAT Global #2017, the seamless and global imagery basemap processed with fresh and cloud-free satellite images.

Processed with current Landsat 8 source data for 40 percent of the global and more than 300 major urban areas across the world, PlanetSAT Global version #2017 is the high quality natural color imagery basemap that offers detailed and up-to-date geographic information, perfect for 1:50,000 scale mapping.
PlanetSAT Global imagery basemap is ready-to-use as a unique backdrop map of many military, commercial and consumer applications, from visualization and simulation solutions, flight simulators, geo-intelligence and mission preparation systems, to GIS software, web-mapping applications and graphic solutions for broadcast and weather.
Key benefits for users include...
Up-to-date and reliable geographic information, available immediately
Plug-and-play product, ready-to-use in all professional applications
Cost effective solution with special packages for continental subsets and global coverage
As part of the firm's annual maintenance program, PlanetSAT Global basemap is updated every year in order to offer global data totally consistent with all local changes and enhance user experiences.
Laurent Masselot, CEO of PlanetObserver, noted that PlanetSAT Global is the new generation of global imagery basemap. By adopting PlanetSAT Global imagery layer, users benefit from high quality, up-to-date and cloud-free imagery that is easy to implement in any professional solution, from GIS to visualization and simulation systems, both for civil and military applications."
To find out more about PlanetSAT Global imagery basemap, visit PlanetObserver website at .