Alaska Airlines has selected Gogo to provide next-generation satellite-based inflight Wi-Fi service across its entire Boeing and Airbus fleet.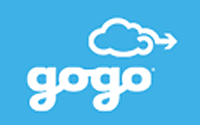 Gogo's broadband 2Ku service provides the significantly faster connection speed needed to stream content from services like Netflix, Hulu, and HBO GO while in the air. Using this advanced technology, guests can use their devices in flight just as they would on the ground. The satellite-based service delivers 20 times more bandwidth than Gogo's air-to-ground (ATG) product and offers the freedom of having Wi-Fi virtually everywhere Alaska's Boeing and Airbus mainline jets fly, including allowing guests to stay connected when traveling outside the continental U.S. to popular destinations like Hawaii, Mexico, and Costa Rica, where connectivity was previously unavailable.
Once an Alaska aircraft is equipped with satellite, guests will no longer have to wait until the plane reaches 10,000 feet to get online. Gogo's 2Ku service provides internet access from gate-to-gate, with speeds similar to those of wireless carriers on the ground. Alaska will be revealing pricing for its planned satellite Wi-Fi service in the near future and guests can expect that prices will be lower than they are today for ATG service, with options available such as hourly and daily rates.
Additionally, the airline also announced that guests on flights operated by Virgin America now have access to Free Chat and free movies – two benefits already available to guests flying on Alaska. With Free Chat, guests flying with Virgin America can now use iMessage, WhatsApp, and Facebook Messenger on their smartphones to send greetings from 35,000 feet — for free. Since the introduction of Free Chat to Alaska earlier this year, more than one million guests have used it to stay connected while in the air.
Also, all entertainment on Virgin America's RED in-flight entertainment system is now free, including new releases, classics and independent films, as well as all TV. Free entertainment became a permanent feature on Alaska in March.
The Gogo 2Ku service will be installed on Alaska's Boeing 737 aircraft beginning in the first half of 2018, with 40 to 50 planes expected to be completed by the end of the year. The remainder of Alaska and Virgin America's mainline fleet will be fully satellite Wi-Fi equipped by early 2020. Regional jets operated by Horizon Air and SkyWest, which serve shorter flights, will continue to offer Gogo's ATG4 internet service (including Free Chat) along with free movies and TV.
Andrew Harrison, COO for Alaska Airlines, noted that the company conducted an extensive review to find a satellite Wi-Fi solution that would allow guests full coverage across the airline's route map, including in the state of Alaska and on flights to Hawaii. Guests will soon be able to connect in the air just as they do out and about on the ground. This makes traveling more relaxing as well as productive.
Michael Small, Gogo's president and CEO, added that 2Ku is the leading inflight internet solution on the market today in terms of bandwidth delivered to each passenger device, coverage and reliability, with market-leading satellite capacity and the ability to add more — the company continues to innovate and improve the technology to make sure 2Ku will keep Alaska ahead of the technology curve for the foreseeable future.