For the third time, the SpaceX launch of the JCSAT-14 satellite from Cape Canaveral AFS has been delayed, due to wobbly weather.
The launch is now scheduled for Friday at 1:21 a.m. and, as the weather conditions appear to be favorable, there is a 10 percent or less chance that such will violate the launch rules. The launch will occur from Launch Complex 490 and there is a two hour window for the satellite push by the Falcon 9 rocket.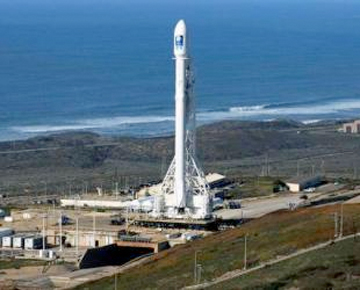 JCSAT-14 is owned by SKY Perfect JSAT who currently have 15 satellites on orbit. The company is based in Tokyo, Japan. SpaceX will again attempt to land the rocket's booster onto a ship that will be awaiting the descent from a position in the Atlantic Ocean, all part of the company's ongoing work to develop a reusable Falcon 9 booster. SpaceX had success in a similar landing of the booster last month, with that first stage expected to launch another satellite this summer.