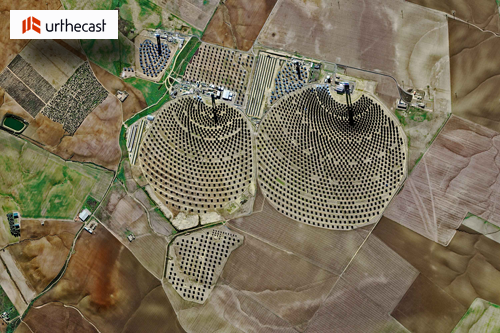 UrtheCast Corp. and their subsidiary, Deimos Imaging, have signed an agreement with SI Imaging Services ("SIIS") for the mutual, global distribution of their respective product portfolios.
The space assets of Deimos Imaging and SIIS include Deimos-1, Deimos-2 and the KOMPSAT series KOMPSAT-2, KOMPSAT-3, KOMPSAT-3A and KOMPSAT-5, resulting in a wide portfolio of X-band SAR and optical data in a wide range of resolutions, from 22 m to 0.4 m per pixel.
The combination of radar with very high-resolution optical imagery will allow observation of the Earth day and night, regardless of weather conditions, and is intended to provide a constant asset monitoring service. This is key for a wide range of applications, especially those requiring frequent monitoring over the same area of interest and real-time response, such as emergency services, border and maritime surveillance and defense and security. Additionally, this collaboration is expected to provide customers with an exceptional level of decision making data, and to create a unique and crucial benefit for users in various sectors while strengthening the positions of both companies in their respective markets.

The assets of SIIS now combine with the recent strategic partners aligned with Deimos Imaging, resulting in a multi-satellite, multi-resolution virtual constellation, to deliver imagery services and geo-analytic applications to customers globally. These strong partnerships are designed as 'win-win' to secure the success and sustainability of all the partners involved in the ever developing and growing Earth Observation industry.
Mr. Wookhyun Choi, VP at SIIS, stated that the company is delighted to be an authorized distributor for Deimos Imaging. This is a great opportunity to broaden the firm's reach and widen geospatial data distribution options, as the company is introducing Deimos Imaging's imagery to the firm's resellers while presenting KOMPSAT to their networks. This will allow SIIS to provide customers with more precise answers to their needs.
Fabrizio Pirondini, CEO at Deimos Imaging, added this collaboration supports and strengthens the company's data strategy to meet a growing range of customer needs by providing them with fast, customized and ready-to-use solutions. This agreement confirms the importance of partnerships and alliances with other stakeholders to significantly accelerate decision making in a great variety of fields. In addition, this joint service increases the company's portfolio of sensors and market reach with new geo-intelligence products, thanks to the combination of SAR and very high resolution optical data.