[SatNews] SES (NYSE Euronext Paris and Luxembourg Stock Exchange: SESG) has announced that Nawras, one of the largest wireless operators in Oman, has signed a capacity agreement on the NSS-6 satellite.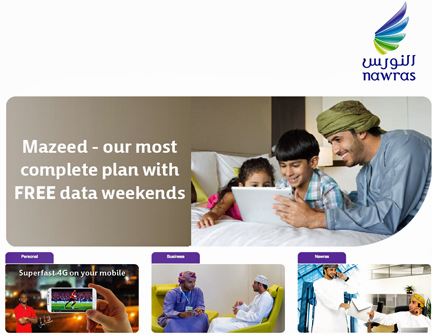 The capacity will allow Nawras to provide services such as high quality GSM backhaul and broadband across the Sultanate, including rural areas. Nawras is an integrated services telecommunications operator serving about two million customers throughout Oman. NSS-6 is located at the 95 degrees East orbital position. The spacecraft's high-performance Ku-band beam is specifically devised to support key telecom infrastructure, enterprise and broadband networks across several regions, including the Middle East.
Wolfgang Wemhoff, CTO at Nawras, said, "Satellite is an important component in our network, as it caters for voice and Internet services in hard to reach locations. We have a trusted partner in SES, where we are assured of a robust and reliable service and the best technical solution, as well as a dedicated local team which understands the dynamics and specific requirements of our business here in Oman."
"We are very pleased that Nawras has selected SES as a partner to provide connectivity to rural areas of Oman," said Hussein Oteifa, General Manager Middle East at SES. "SES's satellites allow reliable connectivity, even across challenging geographical terrains, and we are delighted to deliver these best-in-class satellite services locally. Our local SES team worked closely with Nawras to ensure the solution meets their specific needs and technical requirements."
The SES infosite is located at http://www.ses.com/
Nawras information may be found at http://www.nawras.om/
Additionally, SES has extended their capacity arrangement to deliver reliable communications connections to the cruise, yacht, ferry, commercial shipping, oil and gas, and government markets with MTN Communications.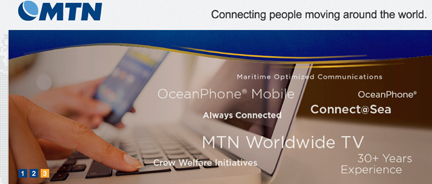 This is one of several agreements between the two companies in a continuation of a long-term global partnership and enables MTN to add to its seamless connectivity. As part of the multi-year arrangement, MTN is leasing capacity on multiple transponders aboard two SES satellites. The satellites are ideal for both video and broadband services for the mobile market. For example, MTN is the only communications provider to deliver a live, worldwide maritime television service (MTN TV) for the enjoyment of passengers and crew on vessels.
Customers count on MTN service excellence and value to meet a broad range of connectivity and content demands, including keeping passengers and crews connected to family and colleagues around the world, as well as supporting critical government and enterprise missions. Satellite-delivered high-speed broadband also enables MTN customers to remotely monitor their operations at sea real-time from anywhere. MTN relies on multiple SES satellites to serve its broad customer base.
"The global and mobility beams aboard SES satellites are enabling communications industry leaders such as MTN to innovate new solutions that allow their customers to connect and operate effectively at sea and on land," said John Matlaga, Vice President of Mobility and Enterprise Services in North America for SES. "This latest agreement is focused on delivering a tailored solution to meet the growing demand for everything from vital high-speed broadband to global, live TV at sea for crews and passengers travelling ocean waters anywhere on the planet."
"This latest capacity agreement with SES enables MTN to ensure customers seamless connectivity to the latest crew and passenger lifestyle services and applications as they travel some of the busiest maritime routes throughout the world," said Zafar Khan, vice president of systems and space engineering for MTN. "We are now able to expand the delivery of our unique, highly-demanded MTN TV at sea like never before thanks to the strategic coverage SES provides. The satellites augment our current, unmatched network. SES is an important partner for MTN as we continue to grow and expand our mobility service offerings, and offer the only hybrid network option for maritime around the world."
The MTN Communications infosite is resident at http://www.mtnsat.com/