[SatNews] Worldwide market revenue for pay-TV STB CA technology will decline to $1.9 billion in 2018, down from a peak of $2.2 billion in 2015...
The global market for conditional access (CA) technology used in set-top boxes (STBs) is set to contract as pay-TV services reach saturation, according to IHS Technology.
"The CA market is largely dependent on pay-TV growth," said IHS Senior Analyst for Connected Home Wajahat Abbassi. "Shipments of STB CA clients have grown strongly during the past 10 years, from 44 million units in 2003 to 246 million in 2013, driven by a decade of rampant pay-TV growth. However, this dependence will make further growth for CA challenging as the pay-TV market begins to slow."
Conditional access is defined as any method or technology that prevents digital TV content from being viewed by those that have not been granted rights. In STBs, CA clients come in a variety of implementations, including software that is either embedded into an STB or comes separate in the form of smartcards or conditional access modules.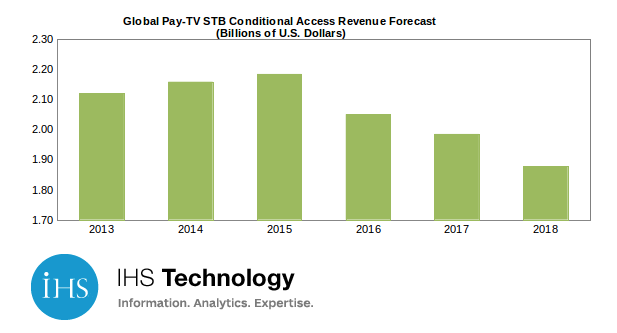 Market conditions: variable
The global STB content-protection market contracted to $2.1 billion in 2013, down 4.5 percent from $2.2 billion in 2012. The decline came despite a rise in shipments of STB CA clients, such as smart cards, whose shipments grew 6.0 percent to reach 246 million units in 2013.
The CA market will expand in 2014 and 2015, with Chinese and Indian cable TV digitization programs and further pay-TV growth in emerging markets. This will propel STB CA client shipments to 279 million units in 2015.
Even so, price competition and a trend toward software-based solutions will limit revenue expansion during the period, with the industry growing to just $2.2 billion by 2015.
A state of saturation
A total of 53 percent of TV-owning households worldwide will subscribe to pay-TV services by the end of 2015. This high level of penetration will limit further growth opportunities for conditional access as the pay-TV market saturates. As a result, industry value will decline after 2015.
IHS's annual Middle East Media Market Monitor released a report in early August that highlighted the Middle East North Africa (MENA) region, estimating that 4.35 million households subscribed to at least one Pay TV service at the end of 2013.
"There are 300 million households in the region and it is growing faster than any other emerging market," said IHS Technology Senior Analyst and report author Constantinos Papavassilopoulos. "That presents huge opportunities for businesses in this sector. Last year was the third in a row and the eighth since 2004 where Pay TV penetration rates grew. We expect those numbers to grow in the years ahead."
Cisco Systems Inc. currently leads the CA market with a 32 percent share of total revenue in 2013. The networking equipment giant gained market leadership with its acquisition of NDS Group Ltd. from News Corp. and private equity firm Permira in 2012.
Kudelski Group's Nagravision has the second largest share at 27 percent. Its 2014 acquisition of Nordic pay TV and telecoms operator Telenor's conditional access subsidiary, Conax, will see the top two players control nearly 65 percent of the market, at 2013 values.
"Consolidation in the CA market is not just a result of commoditization," said Abbassi. "The relationships between pay-TV operators and CA providers tend to be among the most long-lasting and persistent in the entire TV technology value chain. Being able to offer content protection as part of an overall solution, alongside other products such as STBs, STB software or multi-screen video components, is a strategic advantage for video technology providers. Doing so enables them to deliver high-value solutions that also benefit from the typically sticky nature of content-security relationships."
This information was derived from the CA Market Monitor report from the TV Technology Intelligence service at IHS. For more information, please visit the IHS Technology Infosite.