[SatNews] Recent news of a low cost airline in Asia selecting in-flight connectivity (IFC) via satellite begs the question: is this a clear signal the market is transitioning from nascent to mainstream? And, more importantly, are ROI calculations now positive enough to ensure profitability for airline carriers?
In June 2014, Global Eagle Entertainment, Thaicom, and Hughes Network Systems announced that they have been selected to equip Nok Air, Thailand's premium low cost airline, with satellite-based connectivity and content services across its entire fleet. This is a first for a Southeast Asian carrier with plans to further develop, implement and support inflight connectivity solutions for airlines in Thailand and across Southeast Asia.
The announcement is noteworthy for a number of reasons:
Low cost airlines in Southeast Asia, a region not among the wealthiest in the globe, are now beginning to implement solutions and services that until a few years ago were under the domain of non-low cost airlines in highly developed and wealthy countries.
This enlarges the addressable market for satellite solutions and may be an indication that over time, all airlines will have to deploy wireless backhaul and inflight entertainment as a way of becoming not just competitive but be at par with all other airlines in terms of service features.
The announcement also indicates that the cost structures of satellite solutions for wireless backhaul for mobility platforms and other inflight services are beginning to come down where low-cost airlines such as Nok Air can now afford the service and justify ROI.
Since 2006, the number of announcements and contracts has increased with a mix of airlines that include premium, mid-level and low-cost carriers deploying satellite connectivity. In the early part of the market cycle, however, non-low cost airlines from wealthy counties were the vast majority of entities contracting and deploying these services.
In NSR's view, the market is now in transition where it is entering the development stage such that a larger number of deployments from all types of airlines, maritime passenger vessels, and commuter trains will begin to deploy wireless backhaul solutions and services at a more rapid pace. In its latest market study, Wireless Backhaul, Trunking and Video Offload via Satellite, 8th Edition, NSR forecasts close to 40,000 in-service units by the end of 2023 for mobility platforms or roughly a four-fold increase from the 2013 level.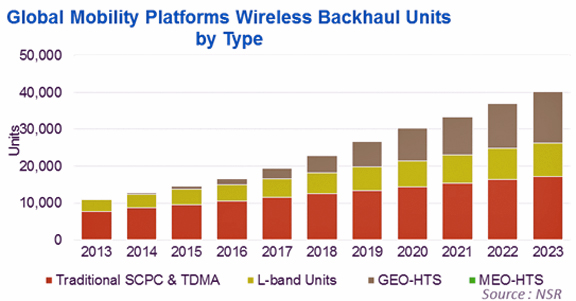 WiFi and other wireless services aboard commercial aircraft for short-haul and long-haul flights will have to be made available to a growing mobile workforce that has to remain connected to the corporate intranet virtually at all times. The mobile worker at downtime as well as the leisure market will likewise have to be entertained through the availability or access to social media, Youtube and other portals and applications on the Cloud. As such, NSR expects many other contract announcements to take place that replicate the Nok Air deal in other developing regions of the globe.
A final point worth noting is that, the Thaicom capacity to be used for Nok Air will be Traditional FSS Ku-band capacity and not iPSTAR since certain iPSTAR capacity in Thailand is not available. NSR has always contended that unlike Wireless Backhaul on Fixed Land-based Towers where there is likely to be a clear transition from Traditional FSS capacity to HTS, Wireless Backhaul for Mobility Platforms will be a battleground for Traditional FSS and HTS capacity. This latest contract announcement certainly validates the argument where elements such as availability, coverage and other technical and commercial conditions will be key elements in the solution mix.
For additional information regarding NSR's Wireless Backhaul, Trunking and Video Offload via Satellite, 8th Edition, please visit http://www.nsr.com/research-reports/hybrid-emerging-applications/wireless-backhaul-trunking-and-video-offload-via-satellite-8th-edition/.