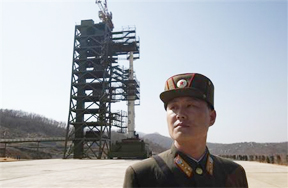 [SatNews] U.S. Pacific Command has moved ships into place to monitor a possible North Korean rocket launch, Navy Adm. Samuel J. Locklear III has said.
North Korean officials have threatened to launch a satellite-tipped rocket into space sometime this month. Locklear, Pacom's commander, said such a move would violate United Nations Security Council resolutions. "We encourage the leadership in North Korea to consider what they are doing here and the implications on the overall security environment on the Korean Peninsula, as well as in Asia," Locklear said during a Pentagon news conference. The move would be similar to what the nation would do to launch an intercontinental ballistic missile. North Korea has been pursuing nuclear technology in defiance of the international community and has claimed to have carried out several tests of nuclear devices. Launching the rocket could show that North Korea has a delivery system for a nuclear weapon. "And this ... would be very destabilizing ... not only to the region but to the international security environment," Locklear said.
The possible rocket launch would counter what has been a series of positive steps North Korea has made. "There have been ... a number of signs that might lead you to believe that the new regime leadership is going to take a more ... rational approach to how they deal with their own economy and how they deal with their own people, and how they deal internationally," Locklear said. "There's been a feeling that there might be some hope there."
Locklear's priority—like that of all U.S. commanders—is the defense of the United States. As such, he is watching North Korean preparations carefully and talking with friends and allies in the region. The command has moved U.S. Navy ships in place to achieve optimal monitoring of the threatened launch. This is also important because Pacom has a homeland defense mission for Guam, the Marianas islands and other states in Oceana.