The Israel Missile Defense Organization (IMDO) of the Directorate of the Defense Research and Development (DDR&D) at Israel's Ministry of Defense, together with the U.S. Missile Defense Agency (MDA), have successfully completed a test of the 'Arrow 3' Weapon System.

The Arrow-3 is a unique weapon system, designed to defend against ballistic missiles by targeting the threat outside of the atmosphere. The test was conducted at a test site in central Israel and was led by Israel Aerospace Industries (IAI) in collaboration with the Israeli Air Force. Once the target was launched, the Arrow Weapon System radars detected it and transferred the data to the Battle Management Control (BMC) which then established a defense plan. At the correct moment, the Arrow-3 interceptor was launched toward the target and successfully completed the mission.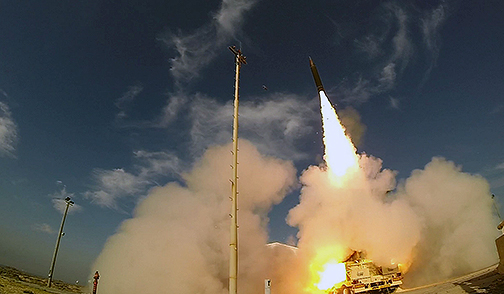 The Arrow Weapon System is a major part of Israel's multi-layered defense array. This array is based on four layers: Iron Dome Defense System, David's Sling Weapon System, Arrow-2 and the Arrow-3 Weapon Systems. The success of this test is a major milestone in the operational capabilities of the State of Israel and the nation's ability to defend itself against current and future threats in the region.
According to a September 6, 2018, posting at the Defense Industry Daily infosite, "Because missile defenses are so important, states like India and Israel have taken steps to ensure that they have the ability to build many of the key pieces. The Arrow project is a collaboration between Boeing and IAI to produce the missile interceptors that accompany the required radars, satellites, command and control systems."
Executive Comment
MDA Director Lt. General Samuel Greaves said that this successful test provides confidence in Israel's capability to protect itself from existing threats in the region. Congratulations to the Israel Missile Defense Organization, the Israeli Air Force, the MDA team, and industry partners. The MDA is committed to assisting the government of Israel in upgrading its national missile defense capability against emerging threats.