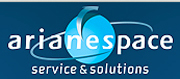 A key mission within the scope of Europe's Earth Explorer program is the ADM-Aeolus satellite.
To move this satellite to orbit where global observations of 3D wind profiles, Arianespace now has that responsibility, having just a signed a contract to do so with the European Space Agency (ESA). ADM-Aeolus' global observations will enable scientists to refine the currently known characteristics and improve techniques for modeling and analyzing the Earth's atmosphere.

This mission will make a direct contribution to improving the quality of weather forecasts and climatology research. The ADM-Aeolus mission is named after the mortal designated by the gods in Greek mythology as the keeper of the winds.
ADM-Aeolus will weigh about 1,400 kg at launch and will be injected into Sun-synchronous orbit at an altitude of 320 km and the satellite is comprised of three modules:
Aladin (Atmospheric Laser Doppler INstrument), a direct-detection lidar (a laser "radar") incorporating measurements of scattering from aerosols and water droplets ("Mie") and molecular scattering ("Ray-leigh"), to provide 3D images of wind profiles.
A platform based on that used for the Mars Express spacecraft.
Solar array
Airbus Defence and Space is prime contractor for the ADM-Aeolus mission and is also in charge of the Aladin instrument. The satellite will be launched from the Guiana Space Center, Europe's spaceport in Kourou, French Guiana, during the second half of 2017, using a Vega light launch vehicle.
Information regarding this ESA mission is available at this direct link...