[SatNews] VT iDirect, Inc. (iDirect), a company of VT Systems, Inc. (VT Systems), today announced that SatLink Communications, has launched an iDirect Evolution network to enhance its data services.
By purchasing a new Evolution satellite hub,
SatLink is offering complete service coverage across Europe, the Middle East, Africa and Asia.
iDirect's expertise is in satellite-based IP communications technology and provides transmission solutions for video, audio and data over satellite platforms, fiber and IP.
By deploying an Evolution network,
SatLink is enhancing its service portfolio, including hub hosting and VNO operations, along with its core data, video and IP transmission businesses, while expanding its capacity for new customers
. SatLink's 100 secured earth stations are ideally positioned for supporting both regional and global telecoms and satellite operators with a myriad of data services.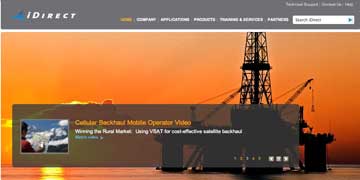 iDirect's Evolution platform enables SatLink to enhance the value of its services in several ways. Built on the next-generation DVB-S2 transmission standard with Adaptive Coding and Modulation, SatLink's Evolution network allows the provider to better utilize network bandwidth resources and realize immediate efficiency gains.
As SatLink looks to expand its services to new customers across EMEA and Asia, iDirect's universal satellite hub enables high-speed satellite broadband with carrier-class quality and performance regardless of bandwidth requirement, location or business application.
"Whether we're supporting a VNO service handling critical data for a government or enterprise client, or a broadcaster transmitting a live HD-video feed of a major event,
the quality and integrity of our services is non-negotiable.
By implementing an Evolution network, we can enhance bandwidth speeds and throughput, and offer the levels of reliability and security that are critical to our broadcast, government and corporate customers who entrust us with their most valuable assets." Said
David Hochner
,
CEO, SatLink Communications.
"The demand for satellite broadband service to support core communications continues to increase, especially as recent technology advancements enable satellite to mirror the performance, quality and security levels of terrestrial service.
By installing an iDirect Evolution hub, SatLink is positioned to realize immediate efficiency gains and capacity expansion in order to capture new market opportunities across EMEA and Asia.
" Added Stephen Tunnicliffe.