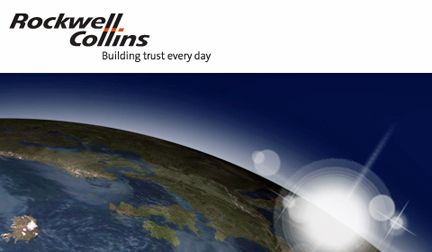 [SatNews] Rockwell Collins has successfully received and tracked a Galileo satellite signal using a prototype Global Navigation Satellite System (GNSS) receiver designed for secure military use.
Last year, Rockwell Collins received a $2 million contract from the Air Force Research Laboratory (AFRL) and the GPS Directorate to develop and demonstrate a Secure Software Defined Radio (S-SDR) Global Navigation Satellite System (GNSS) receiver capability. GNSS typically refers to the collection of equipment that can receive signals from multiple navigation satellite systems including the United States NAVSTAR Global Positioning System (GPS), the Russian GLONASS system, the European Galileo system and the emerging Chinese Beidou system, as well as the various augmentation systems such as Wide Area Augmentation System and the European Geostationary Navigation Overlay System.
By using multiple available satellite signals, improved and more robust signal availability may be obtained, enabling a compatible GNSS receiver to deliver superior position determination that can improve navigation performance and signal availability.
Hosted in a software defined radio, the S-SDR program will develop the security architecture required for receiver equipment approvals and certifications. The arrival of modernized GPS signals and other global constellations is changing the way the U.S. military and its allies accomplish secure GNSS-based positioning, navigation and timing. The European Galileo constellation coming on line during 2015, including its open signals and secure Public Regulated Service, is expected to provide an opportunity for improved robustness in satellite based navigation, in both commercial and government applications.
More than 35 years ago, Rockwell Collins assisted the U.S. Air Force in developing GPS technology. That legacy continued when the company created the world's first all-digital miniature GPS receiver under contract with DARPA. Over the years, Rockwell Collins has produced more than 50 GPS products and delivered more than 1 million GPS receivers for commercial avionics and government applications. The GNSS receiver technology being provided for the S-SDR program will continue this legacy of providing leading edge GNSS solutions.
For further information, please visit the Rockwell Collins infosite at http://www.rockwellcollins.com/