Virgin Galactic has unveiled the company's completed first and second floors at Spaceport America.
In addition, the WhiteKnightTwo or VMS Eve (as she is affectionately named) transitioned flight operations to Spaceport America earlier this week in preparation for the launch of commercial spaceflights.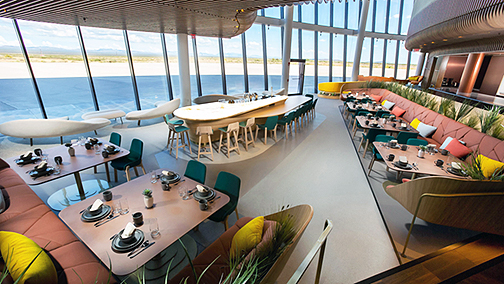 Highlights of Virgin Galactic's completed development include:
The Friends & Family Lounge has been completed. The space will be home to the friends and families of the future astronauts so they can watch people launch into space.
The Operations Control Area is complete. Guests got a sneak preview. See the enclosed b -roll to see it yourself at https://www.image.net/virgingalactic
WhiteKnightTwo has arrived at Spaceport America and is continuing to perform test flights.
Some of the most respected companies in the commercial space industry are customers at Spaceport America: Virgin Galactic, Boeing, UP Aerospace, HyperSciences, EXOS Aerospace, and SpinLaunch. To date, there have been more than 301 vertical launches at Spaceport America.
Governor Michelle Lujan Grisham said New Mexico is on the edge of its seat as Virgin Galactic continues to make progress here. It's been thrilling to watch. The space sector is an enormous growth opportunity, a perfect example of the economic diversification the state will continue to pursue and is committed to seeing through the continued growth and evolution of this industry. Each step Virgin Galactic takes this year in New Mexico brings all closer to the stars.
Daniel Hicks, Spaceport America CEO, added that this Virgin Galactic unveiling is the next step of moving the aerospace industry forward in New Mexico and is a vital step toward commercial space flight from Spaceport America. Virgin Galactic has made tremendous progress in their spaceline development here at Spaceport America.