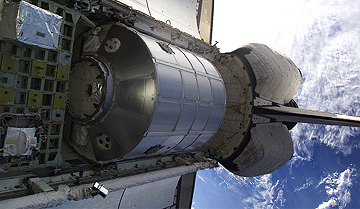 Leonardo, the Multi-Purpose Pressurized Logistics Modules (MPLM) developed by Thales Alenia Space, will be launched tomorrow with the space shuttle Discovery, assuming all goes well and the launch takes place, (STS-128 mission) to the International Space Station (ISS) from the Kennedy Space Center.
The MPLM will carry
15,200 pounds of cargo needed for both scientific experiments and to support the Station's crew
. Using the station's robotic arm, the MPLM Leonardo will be connected to another major part of the space station, the
Node 2 (Harmony)
, also produced by
Thales Alenia Space
, to transfer the goods and experiments. It will then be transferred to the shuttle's cargo bay for its return to Earth.
During the
third and last spacewalk
, the crew will prepare the Station for the arrival of the Node 3 (named Tranquility) and the Cupola observatory, both developed by Thales Alenia Space. These two new modules are targeted to fly to the station with
STS-130 mission in February 2010
.
Luigi Pasquali
,
President and CEO of Thales Alenia Space Italia
stated: "It is the
5th mission of the MPLM Leonardo
. I am very proud of our role as the manufacturer of nearly half of the Space Station's habitable space. Thales Alenia Space is the sole non-American company to play such an important role in the construction of orbital infrastructures."
The
MPLM is a Multi-Purpose Pressurized Logistics Module
used to transport equipment, supplies and material to the International Space Station, via the Space Shuttle. The MPLM program has been developed by Thales Alenia Space as a Prime contractor for the Italian Space Agency in the frame of the bilateral Memorandum Of Understanding between NASA and ASI that paved the way to the important role of our company in the construction of the International Space Station. Three flight models have been built by Thales Alenia Space —
Leonardo, Raffaello and Donatello
. The modules' design is based on the concept of flexible, multipurpose orbital operation. Once docked to the International Space Station, the modules
allow both active and passive storage
, as well as offering sufficient habitable space for two astronauts. All the MPLM missions are supported during the preparation phase and on orbit operation by the Mission Control Center ALTEC located in Torino
MPLM performs two main functions:
as vector, it can fly several times, and as an inhabited module, it can operate in orbit, specifically guaranteeing protection of the Station against meteorites, environmental control, active and passive thermal control, atmosphere control and conditioning, fire detection a
nd extinguishing, distribution of electricity, commands and data processing. Each MPLM is 6.6 metres long, with a 4.5 metre diameter, providing a total pressurised volume of approximately 70 cubic metres.