[Satnews] Advantech Wireless announces the release of their Second Generation Gallium Nitride (GaN) Technology based 50 Watt X-Band Solid State Power Block/Block Up Converter (SSPB/BUC) for Tactical Mobile Military Applications.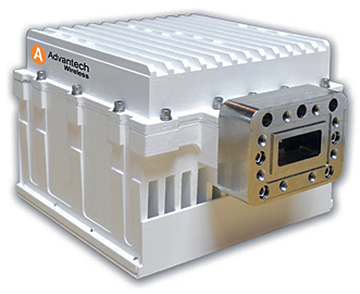 The Second Generation GaN based 50W X-band SSPBs from Advantech Wireless are weatherproof and constructed in a compact cooling enclosure for outdoor operation. These BUCs feature exceptional linearity and operating efficiency and are the smallest fully integrated units on the market today. With built-in design features and less than 3.5 kg, they are perfectly suited for harsh environments, SATCOM-On-The-Move (SOTM) and manpack terminal deployments.
The design of the Second Generation 50W GaN X-band BUCs is based on Advantech Wireless's industry proven reliable solid-state high power amplifiers. With protection against thermal runaway and out-of-lock conditions, the units are completed with power supply, phase-locked oscillator, mixer, filter and cooling mechanism providing the utmost in performance, convenience and efficiency.
Executive Comment
"The Second Generation 50W X-band GaN product line continues on the development road map started by the 25W X-band GaN launched in 2012. With several hundred 25W units already successfully deployed in the field, the new 50W BUC will allow higher output power, and higher data rates for mission critical, bandwidth hungry operations in challenging mobile military environment. These units are designed for extreme low weigh SOTM, man packs, and flyaway applications, where weight and energy efficiency is the driving factor," mentioned Cristi Damian, VP Business Development at Advantech Wireless.