[SatNews] SES S.A. (NYSE Euronext Paris and Luxembourg Stock Exchange: SESG), together with SpeedCast and AsiaSat, have donated satellite and service capacity to enable NetHope, a consortium of 41 non-governmental organizations around the globe, to re-establish communication links to survivors of Typhoon Haiyan.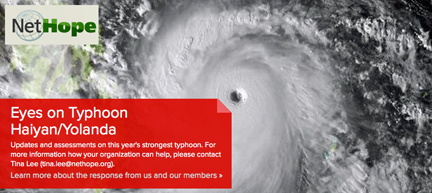 By using the satellite capacity donated by SES as well as the crucial uplink services and ground infrastructure provided by SpeedCast and AsiaSat, NetHope will be able to provide Typhoon Haiyan survivors access to information directly. The services and infrastructure will also support a number of other relief agencies and NGOs working in-country.
Elias Zaccack, Senior Vice President, Commercial Americas at SES, said, "Damage to critical telecommunications infrastructure has made disaster relief and rapid assessment of the situation difficult. Given that it may be weeks or months before terrestrial infrastructure is up and running, satellite connectivity is vital in providing immediate communication needs. SES is pleased to donate satellite capacity to support the people of the Philippines during their recovery from this terrible disaster."

The GVF's Humanitarian Assistance & Disaster Response Programs helped to facilitate this combined industry response to Typhoon Haiyan in the Philippines. For more information, please refer to the press release attached. If you would like to speak to an SES spokesperson, please let me know.
Additional information regarding NetHope is available at: http://nethope.org/