[SatNews] The Satcom Division of Communications & Power Industries LLC (CPI) is introducing its new 700 W Ka-band traveling wave tube amplifier (TWTA) at this week's SATELLITE 2015 Conference and Exhibition in Washington, D.C. CPI's new Ka-band outdoor unit (ODU) is a powerful broadband Ka-band amplifier, both in terms of saturated power as well as linear output power.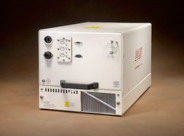 "Certain high throughput satellite (HTS) applications in Ka-band require as much RF power as possible to safeguard against rain-fade," said Gerard Charpentier, CPI Satcom's director of business development for commercial products. "Our new Ka-band TWTA provides 260 W of linear power at the flange, which is more than 30 percent higher than what typically has been available previously."
The 700 W Ka-band ODU provides up to 580 W of saturated output power at the flange and weighs less than 80 pounds.