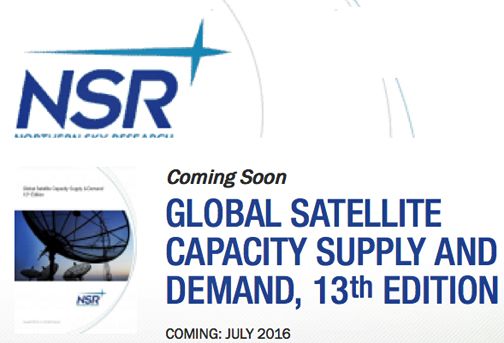 Just about to be released is NSR's Global Satellite Capacity Supply & Demand, 13th Edition, which finds a satellite industry in the midst of a sea of change, with choppy waters threatening to overturn operators who adhere to the status quo.
However, blue oceans do offer billion-dollar opportunities for those able to successfully change with the times. The widebeam capacity and dozens of transponder-satellites of yesteryear face enormous pricing pressures across a number of verticals—NSR is forecasting widebeam revenues to drop by over $1.25 billion from 2015 to 2025. Alternatively, HTS capacity creates a renaissance of sorts for the satellite industry, with more than $7 billion in new revenues paving a growth path for operators able to pivot towards new business models and new ways of selling capacity.

As macro factors, such as TV viewing habits, data consumption, and Internet penetration in the developing world change rapidly over the coming decade, the satellite supply picture will change markedly. Satellite operators will need to look to volume for growth, with over 12 Terabits per second of HTS capacity (GEO, MEO, and LEO) to launch by 2025. While much of this will be the proposed LEO-HTS constellations of next decade, there will be over 3 Tbps of GEO-HTS capacity globally by 2025. At a minimum, this equates to triple the amount of traditional FSS capacity in orbit today, and depending on bits per hertz efficiencies, it could be even more than that.
On the demand side, nearly 4 Tbps of data/broadband demand will be sold over satellite by 2025, up from just over 250 Gbps today, for a CAGR of over 30 percent. Revenue growth will be more modest, but with only a 17% CAGR boosting top-line revenues from $1.9B to $9B to 2025.
The Global Satellite Capacity Supply & Demand, 13th Edition study provides not only a wealth of data in the form of tens of thousands of data points, but also the qualitative, analytical discussion that adds comprehension to the forecasts. NSR remains at the forefront of the industry by providing the most thorough analysis of a market that the company itself coined—HTS—and provides not just the data, but also the business acumen and on-the-ground knowledge that is the signature of NSR's work.

The NSR Senior Analyst and report author, Blaine Curcio, noted that the telecom industry as a whole has seen Moore's Law applied to the cost of data over the past 15 years, with satellite today being not competitive in 99 percent of the telecom market. However, he believes, with HTS, there is hope to address a much bigger piece of the pie and, ultimately, operators must deploy HTS or die. With such a warning in mind, the NSR study forecasts price drops in data verticals upwards of 60 percent by 2025, with this leading to significant elasticity of demand across these applications.
Additional details regarding this informative report are available at this direct link...