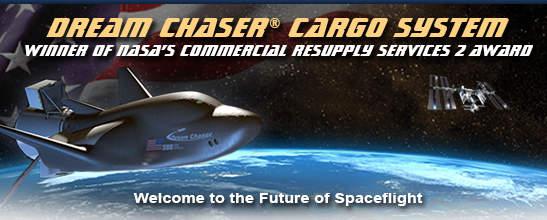 Sierra Nevada Corporation (SNC) has contracted with Aerojet Rocketdyne, a subsidiary of Aerojet Rocketdyne Holdings, Inc. to provide the electrical power system for the Dream Chaser. The Dream Chaser is a creation of Sierra Nevada which will run cargo to and from the International Space Station.
Additionally, the system will be able to regulate the power that comes from the solar array panels and then distribute it to he reusable spacecraft's avionics, thermal and propulsion systems, as well as payloads that require electrical power.

Aerojet Rocketdyne's CEO and President Eileen Drake said, "Aerojet Rocketdyne is honored to supply a critical power-management system for a spacecraft that will deliver supplies to astronauts living and working onboard the space station. We have been instrumental in efficiently and effectively managing power on the station for decades. We look forward to building upon that experience with Sierra Nevada Corporation, and developing future power systems for use on commercial missions, as well as NASA exploration programs and in-space transportation."
"The capacity of the rechargeable batteries will allow Dream Chaser to increase its free-flight time in space, as well as support the spacecraft's cargo delivery and return journey back to Earth," said Julie Van Kleeck, vice president of Advanced Space and Launch at Aerojet Rocketdyne. "We are proud to be able to provide a low-cost solution for the commercial spacecraft's electrical power system."
The plans also include Aerojet Rocketdyne will design, develop, fabricate, test and integrate SNC's Dream Chaser electrical power system, including power conversion, distribution units and rechargeable batteries.
The Dream Chaser is extremely efficient, reusable, and cost-effective it is reusable making it competitive in the areas of payload hosting as well as mission flexibility.Dream Chaser is part of NASA's Commercial Resupply Services (CRS-2) program and leverages more than 40 years of NASA development and space-shuttle heritage. Earlier this year, SNC received a contract from NASA to fulfill at least six cargo delivery missions to and from the station through 2024. Aerojet Rocketdyne's electric power management and distribution system will be used on those mmissions.