Viasat Inc. (NASDAQ: VSAT) has surpassed a key milestone of 1,000 AN/PRC-161 Battlefield Awareness Targeting System-Dismounted (BATS-D) handheld Link 16 radios shipped.
The 1,000th production unit was delivered in March 2019, Viasat's final quarter of fiscal year 2019. The Viasat BATS-D handheld Link 16 radio bridges a critical gap between air and ground forces by providing warfighters at the tactical edge secure, reliable access to integrated air and ground information for improved situational awareness and enhanced close air support communications.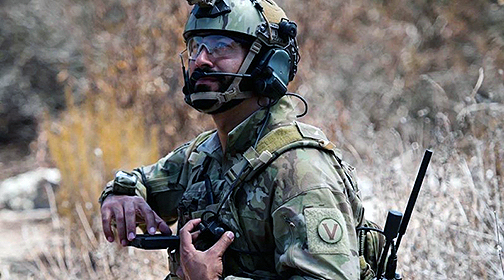 Viasat has steadily increased BATS-D production capabilities in response to growing demand. The BATS-D handheld Link 16 radio is part of Viasat's expansive portfolio of Non-Developmental Item solutions, which help provide warfighters with better communications to more rapidly engage enemy targets and reduce the risk of fratricide incidents.
The patented AN/PRC-161 BATS-D handheld radio is ideal for bringing full Link 16 network access to a number of Department of Defense customers. Viasat's portfolio of next-generation tactical datalink systems, including the BATS-D handheld radio, are updated with new capabilities to support the operational environment and customers' evolving mission needs.
Ken Peterman, President, Government Systems, Viasat, said that delivering the 1,000th BATS-D to customers demonstrates the value of Viasat's entrepreneurial business models, culture of innovation and deep understanding of the current and emerging mission needs of today's warfighter. The company's patented BATS-D technology has been field-tested and proven to significantly reduce targeting timelines, enhancing overall mission effectiveness and improving warfighter safety. Given its field-proven success, Viasat is increasing production rates of the BATS-D radio to empower customers with leading advancements in Link 16 technologies that will provide them with the edge needed to succeed across today's battlespace.