[Satnews] Did you know that our industry was founded by a magician?
He didn't call himself that, but he had a magical ability to see into the future. One of the many things he saw was the satellite industry.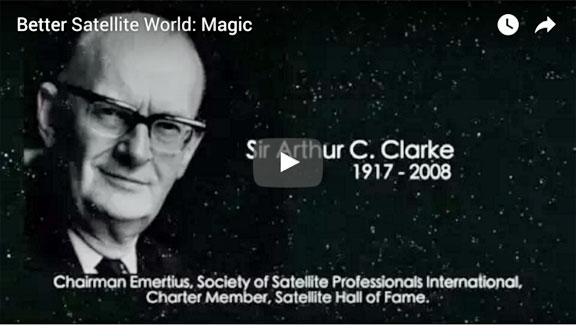 His name was Sir Arthur C. Clarke. He is Chairman Emeritus of our Society and a charter member of the Society of Satellite Professionals International's Hall of Fame. He is also the inspiration for the next video in SSPI's Better Satellite World campaign, called "Magic."
This video is about the many astounding ways that satellite—the world's indispensable technology—will make the world a better place 15 years from now in 2030. The title celebrates Sir Arthur's remarkable ability to forecast the future as well as one of his "laws" of science fiction: that any sufficiently advanced technology is indistinguishable from magic.


We also thank the companies that made it possible for us to show you our latest video: the Intelligent Communities Group, L-3 and Microspace Communications. This video made its debut at our 2016 Hall of Fame Benefit Dinner.