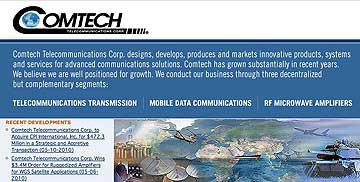 Comtech Telecommunications Corp. [Nasdaq:CMTL] and CPI International, Inc. [Nasdaq:CPII] jointly announced today the signing of a definitive merger agreement under which Comtech will purchase CPI in a cash and stock transaction with an enterprise value of approximately $472.3 million.
Comtech will fund the acquisition by
redeploying approximately $372.0 million of its existing cash and will issue approximately 4.4 million shares of Comtech common stock
.
CPI
's sales and EBITDA were
$338.5 million and $56.4 million
, respectively, for its last four fiscal quarters ended January 1, 2010.
Based on the May 7, 2010 closing price of Comtech stock which was $31.06, CPI
shareholders will receive a combination of cash and stock that is currently valued at approximately $16.40 per CPI common share.
This amount represents a premium of 25.7 percent as compared to the last closing trading price of CPI common stock and 21.3 percent as compared to the last 30 trading day average closing price.
The ultimate amount of consideration that a CPI shareholder will receive will be equal to a combination of $9.00 in cash plus a fraction of Comtech common stock equal to $8.10
divided by the average closing price of Comtech common stock over a specified period of time prior to closing, provided that the fraction shall not be greater than 0.2382 nor less than 0.2132.
All existing CPI debt is anticipated to be repaid
upon the closing of the transaction at which time Comtech, on a pro-forma basis and excluding the impact of any additional acquisitions, is anticipated to have between $150.0 million and $200.0 million of deployable cash.
Fred Kornberg
,
President and Chief Executive Officer of Comtech
, said, "We are excited to have reached this agreement with CPI and believe this combination is beneficial to the stakeholders of both companies. CPI is a unique business and a leading global supplier of vacuum electron devices which are used in hundreds of critical commercial and military applications.
The acquisition is a significant step in our strategy of developing a one-stop shopping approach for RF microwave products.
The combination will allow us to unite our companies' resources to develop and bring new and innovative products to market and to our customers. We welcome CPI's talented workforce to the Comtech team and are excited about the future."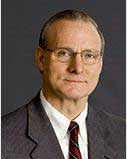 Joe Caldarelli
,
Chief Executive Officer of CPI
, said, "The Board of Directors and management believe
this strategic combination with Comtech is compelling and provides significant benefits for shareholders, customers and our employees
. CPI shareholders will benefit from an immediate premium while sharing in the future growth of the combined companies. Furthermore, our customers will benefit from greater resources and more diverse product offerings, and our employees will benefit from being part of a larger more diversified company."
The companies recognize that their respective customers have been critical partners in their success.  They plan no interruptions in any scheduled or committed rollouts, and intend to continue to support all existing Comtech and CPI products and services as well as honor all existing agreements with customers.  
Key Strategic Benefits for Comtech:
Almost triples the size of Comtech's RF microwave amplifier segment and is anticipated to generate over $50.0 million of earnings before interest, income taxes, depreciation and amortization (EBITDA) on an annual basis.


Immediately establishes Comtech as a leading global supplier of vacuum electron devices (including klystron, traveling wave and power grid tubes). CPI's tubes and amplifiers are incorporated into products that are used in a broad array of applications and end-markets.


Drives further innovation by combining manufacturing, engineering and sales teams for Comtech's XICOM branded-product group with CPI's Satcom product group to take advantage of united resources which are expected to deliver new and advanced amplifiers and other products to be used in satellite communications, radar applications and other electronic warfare systems.


Diversifies Comtech's product portfolio and customer base. CPI has an extensive portfolio of over 4,500 microwave and power grid tubes. No customer other than the U.S. government accounted for more than 10% of CPI's sales for its last four fiscal quarters ended January 1, 2010.


Approximately 40% of CPI's sales of $338.5 million for its last four fiscal quarters ended January 1, 2010 are derived from annuity-like sales for replacements, spares and repairs, including upgraded replacements for existing sole-sourced products. These sales have strong related cash flows which will allow Comtech to become a more stable, predictable business that is partially insulated from dramatic shifts in market conditions.


Strategically redeploys a significant portion of Comtech's existing cash to enhance earnings per share and shareholder value. Comtech's balance sheet strength will remain strong. Comtech expects that, upon the closing of the transaction, it will have between $150.0 million and $200.0 million of cash and cash equivalents.
Please find the entire press release
here.