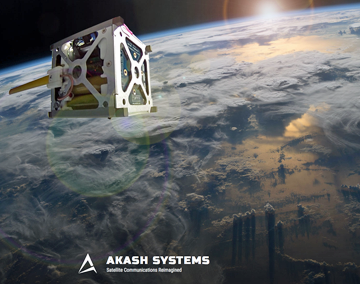 Akash Systems, Inc. has appointed industry veteran Fabrizio Montauti as Vice President of Radios — he brings 30 years of radio frequency (RF) communications experience from his work delivering radio technologies to the global space satellite communications market.
Montauti's appointment continues the expansion of the Akash Systems' core management team, which has been carefully assembled by co-founders Felix Ejeckam and Ty Mitchell since 2016.
Montauti's team of industry-leading engineers expects to deliver its first radio product, a small X/S transceiver, over the next few months to both cubesat and satellite customers in the Earth Observation (EO) market, with a Ka-/S-band transceiver shortly thereafter. Gallium Nitride (GaN)-on-Diamond, the innovative material created by Ejeckam, powers the company's radio products and allows for record-breaking data rates at highly reduced power consumption levels.
Through his experience in radio product design, customer support, business development, sales and team leadership, Montauti will further Akash's mission of extending the reach of fast, affordable information across the globe. Prior to joining Akash, he was head of Microwave Products at RUAG Space in Santa Clara, California, where he led advanced research and development of microwave payloads equipment. Previously, Montauti held senior management positions at numerous startups and established companies, including L3 Communications, P-Com and Siemens Telecomunicazioni.
Ejeckam, Akash co-founder, CEO and GaN-on-Diamond inventor, said that it's one thing to design effective RF technology. It's another to deliver that technology to customers through trusted and proven partnerships. Fabrizio has shown a mastery of both skills and the company is excited to leverage his expertise in conceptualizing and delivering groundbreaking space-qualified radio communications systems to our customers.