Not only has this company signed on as the latest member of the Satellite Interference Reduction Group (IRG), but a key player from the same company has been invited to become a Director to this Isle of Man organization. Who and who are...
SIRG has announced that GovSat has become the latest member of their group, with Russ Hogan, the Operations Manager of GovSat named as a Director. GovSat is operated by LuxGovSat S.A., which is a private-public venture undertaken by the Luxembourg Government and the satellite operator, SES. GovSat's main priority is to provide secure, reliable and accessible satellite communication services for governments. In Q4 2017, its first satellite GovSat-1, will be operational.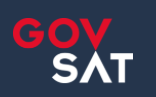 Hogan of GovSat said that they are pleased to be joining the Satellite Interference Reduction Group. After working with IRG for many years, he is really proud to be joining the group as a Director. This is an important initiative and it's imperative for everyone in the industry to work together to try and combat the issues of interference as a whole. They look forward to getting involved.

Martin Coleman, Executive Director of IRG stated that they are really thrilled that the IRG is growing in members. They are especially pleased to welcome Russ Hogan as a Director. It is pleasing to see such a prominent member of the satellite community really getting involved with interference reduction. It's significant that GovSat is focusing on satellite interference before it has even launched its first satellite. It's great to see the industry get so on-board with solving these issues.

IRG is holding its annual workshop this October in Brighton. For more information, or to register please click here.