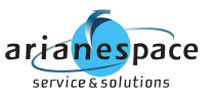 Preparations for Arianespace's upcoming mission have moved into the fueling phase for the two Galileo navigation satellites that will be orbited by a medium-lift Soyuz later this month from the Spaceport in French Guiana.
As part of the process, Flight Model no. 10 in the series of Full Operational Capability (FOC) Galileo platforms, has been "topped off" in the Spaceport's S3B payload preparation facility. This satellite is named for Lithuanian student Danielé—continuing the practice of designating Galileo spacecraft after youngsters who created space and aeronautics-related drawings that were selected by national juries in European Union member states.
Arianespace's upcoming launch will loft this latest pair of Galileo satellites on May 23rd. Once in orbit, the spacecraft will join Europe's global navigation system, which is designed to ensure European independence in applications for businesses and citizens. Galileo's FOC phase is funded and managed by the European Commission, which has designated the European Space Agency as the system's design and procurement agent. Prime contractor OHB System in Bremen, Germany produces the Galileo FOC satellites.
This month's dual Galileo payload mission is designated Flight VS15 in Arianespace's launcher family numbering system and will be the 15th liftoff of the Soyuz from French Guiana since the rocket's introduction at the Spaceport in 2011.
Flight VS15 is one of as many as 12 Arianespace missions targeted for 2016, with the company's launcher family of the medium-lift Soyuz, heavy-lift Ariane 5 and lightweight Vega. So far this year, Arianespace has performed three launches: two with Ariane 5, and one utilizing Soyuz.