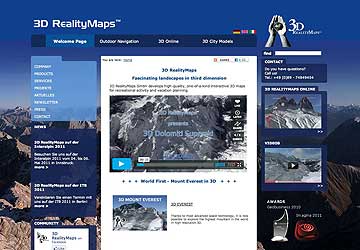 [SatNews] DigitalGlobe (NYSE: DGI) joined forces with two German companies to provide the ultimate in 3D imaging.
DigitalGlobe a global provider of high-resolution
Earth imagery solutions, today announced cooperation with German Aerospace Center (DLR) and the German company 3D RealityMaps to provide a new range of high quality three dimensional (3D) data products.
3D RealityMaps will
use the data, captured on an ongoing basis by DigitalGlobe's fleet of earth imaging satellites and processed into 3D data by DLR, to create high-definition 3D maps of large-scale natural landmarks and other major tourist destinations worldwide.
The maps are accessed and navigated using the company's intuitive and easy-to-use
3D navigation software, available for free download at its website
.
"This is a perfect example of the new and innovative ways
our customers are using DigitalGlobe imaging and insight to solve real-world challenges, deliver value to their customers, and fuel growth
," said
John Oechsle
,
executive vice president of strategy and product at DigitalGlobe.
"Our relationship with DLR and 3D RealityMaps shows that no matter how big the goal, DigitalGlobe can help you reach it."
As a first demonstration of their leading-edge combined capabilities, the joint group created one of the most detailed and accurate 3D maps of Mt. Everest and the surrounding Himalayan mountain region ever achieved.
To experience it,
visit the 3D Everest website
at
.
It is now being used by support personnel to track a 12-climber expedition, sponsored by climbing enthusiast and expedition management company Peak Freaks
. The climbers set out to summit Mt. Everest in late March. The climbers are expected to reach the top of the world's tallest mountain, standing at 8,848 meters or 29,000 feet above sea level, sometime in the next 10 to 15 days.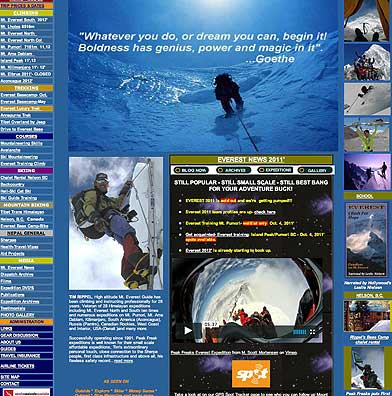 "
Most current 3D models of Mount Everest are created at a lower resolution, which makes rock faces blurred and coloring unnatural
," explained
3D Reality Maps CEO Dr.
Florian Siegert.
"With a ground resolution of the 3D data of 150 cm, our application is about 400 times better than that available in most 3D views of the mountain. This is truly a breakthrough in satellite imagery-based 3D modeling and real time 3D rendering."
To achieve this level of accuracy,
DLR experts used a new methodology for 3D stereo (aerial) image processing, which was originally developed for international space program "Mars Express."
It was further refined at the DLR Center for Robotics and Mechatronics RMC in Oberpfaffenhofen and Berlin, and can now be applied to high resolution satellite images.
The extreme level of detail achieved in 3D Everest gives crews supporting the climb capabilities never before possible.
Personnel,
camped miles away, can now pinpoint the climbers' location on the virtual version of the mountain and monitor their progress in real-time.
For mountaineering enthusiasts, media partner Elevation Outdoors will be posting real-time content from the climbers' journey on their landing page "Climbing Everest."
3D RealityMaps' customers include many of the largest ski areas and tourism destinations in Europe. Using the company's software, guests can explore, book and monitor their outdoor activities at the resort using a detailed 3D map of the region.
"
Our goal with 3D Everest was to give people around the world a new, more immersive way to experience the climb from the comfort of their home or office
," added Siegert. "In many ways it demonstrates how our services benefit our customers. We use this same technology to provide new, more exciting ways to show what our customers' destination have to offer guests before the trip, and help them better manage their activities once they arrive." map of the region.