[SatNews] Announcement from ULA ...
A United Launch Alliance (ULA) Atlas V rocket carrying the fourth Mobile User Objective System satellite for the U. S. Navy launched from Space Launch Complex-41 at 6:18 a.m. EDT today. The MUOS-4 spacecraft will bring advanced, new, global communications capabilities to mobile military forces, as well as ensure continued mission capability of the existing Ultra High Frequency satellite communications system. This is ULA's eighth launch in 2015, the second MUOS satellite launched in 2015 and ULA's 99th successful launch since the company was formed in December 2006.

"The ULA team is proud to support the U.S. Navy and the U.S. Air Force by delivering this critical communications asset to orbit today," said Jim Sponnick, ULA vice president, Atlas and Delta Programs. "Today's successful launch will enable the MUOS constellation to reach global coverage. The Lockheed Martin-built MUOS-4 satellite will deliver voice, data, and video communications capability, similar to a cellular network, to our troops all over the globe."

This mission was launched aboard an Atlas V Evolved Expendable Launch Vehicle (EELV) 551 configuration vehicle, which includes a 5-meter diameter payload fairing along with five Aerojet Rocketdyne solid rocket motors attached to the Atlas booster. The Atlas booster for this mission was powered by the RD AMROSS RD-180 engine and the Centaur upper stage was powered by the Aerojet Rocketdyne RL10C-1 engine.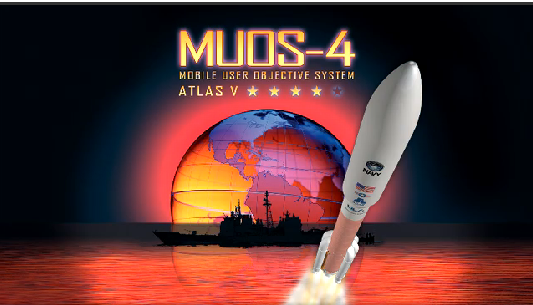 The U.S. Navy's MUOS is a next-generation narrowband tactical satellite communications system designed using a combination of orbiting satellites and relay ground stations to significantly improve communications for U.S. forces on the move. MUOS will provide new beyond-line-of-sight communications capabilities, with smartphone-like simultaneous voice, video and data—to connect military users almost anywhere around the globe.

ULA's next launch is the Atlas V Morelos-3, communications satellite for Lockheed Martin Commercial Launch Services and Secretaria de Comunicaciones y Transportes, a government agency of Mexico, scheduled for October 2 from Space Launch Complex-41 at Cape Canaveral Air Force Station, Florida.

The EELV program was established by the U.S. Air Force to provide assured access to space for Department of Defense and other government payloads. The commercially developed EELV program supports the full range of government mission requirements, while delivering on schedule and providing significant cost savings over the heritage launch systems.

With more than a century of combined heritage, United Launch Alliance is the nation's most experienced and reliable launch service provider. ULA has successfully delivered more than 95 satellites to orbit that provide critical capabilities for troops in the field, aid meteorologists in tracking severe weather, enable personal device-based GPS navigation and unlock the mysteries of our solar system.
Lockheed Martin's Comments
The U.S. Navy's fourth Mobile User Objective System (MUOS-4) satellite, built by Lockheed Martin (NYSE: LMT), is talking from space to the satellite control team at the Naval Spacecraft Operations Control facility here after its Florida launch this morning. MUOS-4 will enable near-global coverage for a new secure military communications network offering enhanced capabilities for mobile forces.
The MUOS-4 satellite launched at 6:18 a.m. EDT this morning aboard a United Launch Alliance Atlas V rocket from Cape Canaveral Air Force Station, Florida. A Lockheed Martin-led initialization team, stationed at Naval Base Ventura County, Point Mugu, California, is operating the satellite from its transfer orbit to its test slot.
This Is A First... An Innovative Off-Site Vertical Integration Process
United Launch Alliance (ULA) and the U.S. Air Force (USAF) have performed off-site vertical integration (OVI) of several structural elements and the Centaur upper stage for the Atlas V launch vehicle in order to minimize the number of lifting operations performed at the Vertical Integration Facility (VIF) at Cape Canaveral. This also is a positive action as it reduces one week's worth of time between launches.
"We are very pleased to have successfully completed the first Off-site Vertical Integration for the upcoming Mobile User Objective System launch. With OVI, the team developed an innovative process that provides safer and more efficient launch processing of the Atlas vehicle." said Jim Sponnick, ULA vice president, Atlas and Delta Programs. "The associated one-week reduction in the launch-to-launch processing spans enables us to better meet the launch needs of our customers."

For a 500-series Atlas V rocket like the one launching the MUOS-4 mission, the OVI process accomplishes the integration of six structural elements along with the Centaur upper stage inside a test cell in the Delta Operations Center (DOC), rather than conducting major portions of these complex hardware lifting and mating tasks outside at the VIF. Moving these operations inside provides a safer working environment for employees and mitigates weather impacts to launch schedules. In the last six years, there were 25 days of weather delays to launch vehicle stacking operations at the VIF.
One of the innovations required to enable OVI was the development of a transporter to safely move the five-story stack of rocket hardware approximately six miles from the DOC to the VIF. The transporter includes a tank pressure control system for the Centaur upper stage.

"The Off-site Vertical Integration process, including ground support equipment designs and operational procedures, were developed in collaboration with our Air Force customer to support launch manifest needs and enable continuous improvement to these critical launch operations," said Sponnick.
Space and Missile Systems Center commander lieutenant general Sam Greaves said, "The Air Force is pleased to partner with ULA to find and implement efficiencies. The associated one-week reduction in the launch-to-launch processing spans enables us to better meet the launch needs of our customers. We are fully onboard with efforts to implement continuous process improvement, a key tenant of better buying power 3.0."
MUOS is a constellation of five planned communications satellites designed to provide tactical mobile communications to the United States military.
Wednesday's launch is carrying the fourth spacecraft of the series, with the final satellite expected to join it in orbit next July.
Although not yet complete, the introduction of MUOS-4 will give the MUOS system worldwide coverage for the first time, with the final satellite intended to serve as an on-orbit spare. The constellation is expected to be fully operational in 2017.
The MUOS constellation replaces the seven UHF Follow-On (UFO) satellites that were launched between 1993 and 2003