[SatNews] Cobham SATCOM has announced receipt of a Supplemental Type Certificate (STC) for the installation of its AVIATOR 300D SwiftBroadband system, with IGA-5001 Intermediate Gain Antenna, on Boeing 767-200, 300 and 300F aircraft.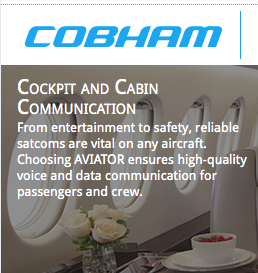 In support of the SwiftBroadband Safety Service Evaluation program, the new STC for the Cobham system will allow for FANS 1/A+ and CPDLC communications as well as ATC voice over SwiftBroadband during the evaluation period.
The SwiftBroadband-based service enables the fast and efficient transfer of Aircraft Communications Addressing and Reporting System (ACARS) data messages via a secure, dedicated 'pipe' to the cockpit. It also supports flight deck voice services and provides dedicated IP connectivity to the cockpit, enabling access to new applications such as Electronic Flight Bags and flight data transmission.
Hawaiian Airlines will outfit their fleet of B767 aircraft with the Cobham SwiftBroadband solution in the coming months following the certification. This comes after Hawaiian Airlines became the first commercial airline to fly with Inmarsat's SwiftBroadband Safety service following the first flight on a HAL Boeing 767-300 on June 3.
The multiple FAA (Federal Aviation Authority) STC was developed in conjunction with applicant L2 Consulting Services and secured following evaluations carried out in cooperation with Hawaiian Airlines (HAL), PARC CWG (FAA), ARINC/Rockwell Collins and Inmarsat. L2 Consulting developed the integration engineering, produced the installation kits and provided certification and project management for the program, and also provided Cobham with remote installation services.
Kim Gram, vice president of Cobham SATCOM's aeronautical business unit, said, "We are very pleased to announce this significant STC which is supporting the FAA-supervised demonstration to evaluate communication technologies being developed to meet the future needs of the aviation community.
"The certification, which allows communication of ACARS data over SwiftBroadband, means we can continue with the scheduled installation of the Cobham systems on the rest of the HAL fleet and enables us to measure the quality of the communication and present this information to the authorities to attain a formal approval of SBB as a safety service.
"SBB has previously only been a service for cabin entertainment, which is why this agreement with HAL is important in successfully proving the benefits of SBB satcom with ACARS data capability to the cockpit, such as increased bandwidth capabilities for air traffic control and operational capabilities to the cockpit. Using SwiftBroadband IP connectivity for all domains of the aircraft will provide safer and more efficient flights.
"The next milestone will be the first installation of our ground-breaking AVIATOR S which is designed specifically to leverage Inmarsat's new SwiftBroadband Safety service and will be available in early 2016 to coincide with approvals for FANS 1/A services over SwiftBroadband."
Unusually when testing new technology, HAL has been allowed reduced separation to fly with FANS 1/A until the evaluation period is satisfactorily completed, following approval by the Air Navigation Service Provider (ANSP), with recommendation by the FAA.
The AVIATOR SwiftBroadband system was used for FANS and CPDLC messaging and for data transmission in support of Hawaiian's new eFLIE, Electronic Flight Bag program (EFBs) during the evaluation, which monitored system operation to ensure it complied with FANS 1/A subset, RCP 240.
The AVIATOR 200S airborne satcom, which will be the first system to be made available, features the exceptionally compact HELGA (combined HLD and Enhanced LGA) antenna which reduces the number of LRUs from three to two. This first Inmarsat Class 4 terminal by Cobham enables simultaneous transmission of safety and non-safety services over the same SwiftBroadband channel. The revolutionary new system will also afford space and weight savings.
For further information please visit www.cobham.com/satcom.