Maxar Technologies (NYSE:MAXR) (TSX:MAXR) has delivered the robotic Sample Handling Assembly (SHA) for NASA's Mars 2020 rover.
As the Mars 2020 rover explores the red planet, the SHA will process and store samples acquired from the Martian surface. The SHA is the sixth robotic arm that Maxar has designed, built and delivered for use on Mars.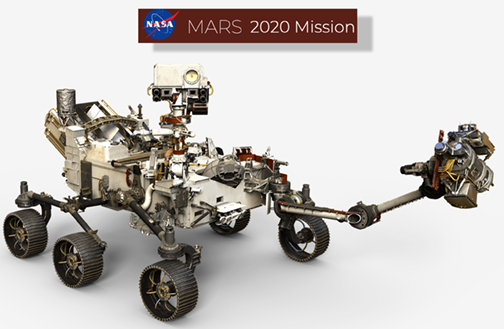 As part of NASA's Mars Exploration Program, the Mars 2020 rover will attempt to answer critical questions about the potential for life on Mars. Maxar's expert roboticists will now work closely with NASA's Jet Propulsion Laboratory to integrate the arm with the Mars 2020 rover. After its planned launch in July 2020, the rover will land at Jezero Crater to search for signs of livable conditions and microbial life from the ancient past.
The Mars 2020 rover will use its drill to collect core samples of the most promising rocks and soils and set them aside in a cache on the surface of Mars. A future mission could potentially return these samples to Earth. As part of the Adaptive Caching Assembly, the Maxar-built SHA will manipulate, assess, encapsulate, store and release collected Martian soil and rock samples.
Maxar is also providing a camera focus system for Mars 2020's SHERLOC instrument and WATSON imager. SHERLOC and WATSON will be used to study the surface of Mars and support the selection of rock and soil samples. Maxar provided robotic arms for previous NASA Mars missions – the Spirit, Opportunity and Curiosity rovers, and Phoenix and InSight landers.
Megan Fitzgerald, Maxar's SVP and GM of Space Infrastructure, said the company is proud to contribute this innovative technology to the Mars 2020 mission. In addition to delivering robotic arms for planetary exploration, Maxar is pioneering robotics technologies that will enable space infrastructure to be serviced, assembled and manufactured in orbit.
Recent Maxar news...
Maxar's New St. Louis Facility with 48 New Hires Supports U.S. National Geospatial-Intelligence Agency Programs
Maxar Technologies' $14.2 Million GEOINT Contract for Red Wing Development from Air Force Research Lab