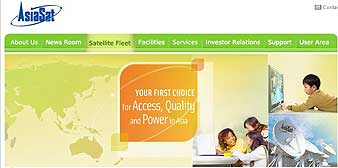 [SatNews] Asia Satellite Telecommunications Co. Ltd. (AsiaSat) is making India's households happier
. Asia Satellite announces that
Dish TV India Limited
, part of the Zee Group, will be utilizing
four 54 MHz Ku-band transponders on AsiaSat 5 to enhance its HD and SD Direct-to-Home (DTH) offerings in India.
Dish TV is the largest DTH operator in India and serves over 9.5 million subscribers with an expanding bouquet of some 270 channels and services. Additional transponder capacity on AsiaSat 5 will enable Dish TV to significantly increase its DTH offerings to more than 30 HD and 320 SD channels.
"The transponders on AsiaSat have provided us with the capacity we need to reinforce our competitive strength in the Indian DTH market.
With this new capacity on AsiaSat 5, we are able to considerably enhance our DTH services to subscribers by increasing our HD and SD channel offerings, providing more value-added services, localized and region specific content
. Through these initiatives, we will maintain our market leadership and achieve even more subscribers in the coming months," said Rajiv Khattar, President Projects of Dish TV India Limited.
William Wade
,
President and CEO of AsiaSat
commented,
"We are pleased that AsiaSat has been chosen to facilitate Dish TV's DTH expansion plans in India, bringing an ever increasing and unprecedented mix of channels to their subscribers
. Dish TV and AsiaSat have a long standing relationship and it is a pleasure to assist with their expansion needs. We look forward to meeting the increased demand from the rapidly developing media market in India."