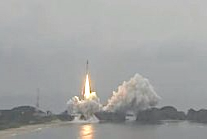 Japan celebrated a successful launch today.
Mitsubishi Heavy Industries, Ltd. and JAXA successfully launched H-IIA Launch Vehicle No. 34 (H-IIA F34) which encapsulates MICHIBIKI No. 2, Quasi-Zenith Satellite System at 9:17:46 a.m. on June 1, 2017 (JST) from Launch Pad No. 1 at the Yoshinobu launch complex, JAXA's Tanegashima Space Center. The launch and flight of H-IIA Launch Vehicle No. 34 proceeded as planned and the separation of the satellite confirmed 28 minutes 21 seconds after the launch time.
Nicknamed Michibiki 2 which means "guiding" or "showing the way" in Japanese, the satellite will join a similar craft launched in September 2010 to improve their country's navigation.

Mitsubishi Heavy Industries, Ltd. and JAXA expressed appreciation for the support in behalf of the successful launch.
These new signals will join the signals already broadcast by the US military's Global Positioning System. The US Air Force's GPS constellation flies 12,550 miles (20,200 kilometers) above Earth and is one of more than 30 operational GPS spacecraft.
Michibiki-2 will be a part of a network of beacons in the sky that provide emergency responders, security forces and the public more accurate positioning and timing signals in Japan and neighboring regions. The satellite will ensure the safety of drivers, hikers and others so that they, and others, know where they are. Skyscrapers in cities, such as Tokyo, and mountainous terrain can hamper and block signals from GPS satellites, which are located in orbits closer to Earth than the Michibiki satellites.
It requires four GPS satellites to calculate a precise position on Earth, but a Michibiki satellite broadcasting the same four L-band signals will give a receiver an estimate if there are not enough GPS satellites visible, or it can help produce a more accurate position calculation even with full GPS service.
This is the 34th flight of an H-2A rocket that was first used in 2001, and Thursday's launch is the third H-2A launch this year. There will be two more spacecraft for the Quasi-Zenith Satellite System, or QZSS, scheduled to launch on H-2A rockets by the end of Japan's fiscal year 2017, ending on March 31, 2018.