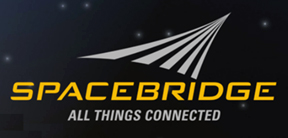 In talking with David and Boris Gellerman, SpaceBridge is one of the leading premiere brands of VSAT platforms, point-to-point, and point-to-multipoint platforms in the industry. The company has been in existence for many years, initially branded under various names.
A few years ago, the company divested their RF business and sold the assets of that product line as well as brand names, such as Advantech Wireless — and the company was re-birthed as SpaceBridge.
SpaceBridge is positioning themselves as a premium, VSAT platform technology. With that positioning comes the requirement for superior performance as well as quality and customer experience. However, they understand the nature of the business — regardless of them being a premium brand, the firm knows they must still be competitive in pricing.
The company is able to provide a top-product for a competitive price (i.e., purchasing a Maserati for the price of a Chevy). According to the Gellermans, SpaceBridge sets the pace in the industry; they are "beyond next generation".
The firm invests millions in R&D, which is how they are able to be known as the "benchmarkers". Also, they consider themselves to be one of the best kept secrets in the industry. SpaceBridge is not a big marketing machine — instead, they focus on creating better products and customer experiences.
As SpaceBridge understands how full systems work, they foresee technologies in the industry as a entirety, an understanding that might not be obvious if one is just looking at individual products. Basically, the company doesn't just look for solutions at the hardware level — they are also engaged at the full system/service level.
There is no "one-size fits all approach", but rather the company provides performance-specific products that meet and exceed the exact needs of the customer. SpaceBridge addresses many different vertical markets, based on the application requirements.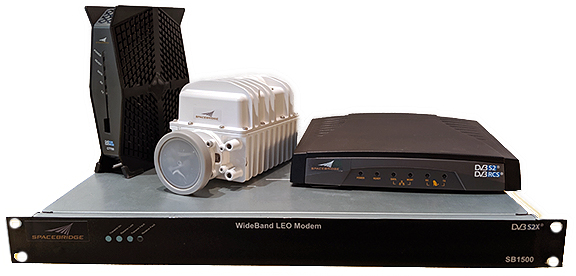 Solutions
The SpaceBridge Wideband Modem Receiver allows for the highest throughput available in the industry. The receiver works with LEO, MEO, and GEO, a first, in that this offering can cover all three designations. High capacity, very high symbol rate that can handle 1.5 GB of traffic plus two million packets per second (pps) are all incorporated into this product.
The company's SatCloud provides cloud-based services to satellites. This is a new business model for the firm, actually a change of paradigm, and moves from a full capital expense model to one that is an operation expense for the customer. This is an almost no-risk approach for the customer, where equipment is not paid for — it is, instead, delivered to the customer and they then start running the services. The revenue for SpaceBridge is shared via the subscription. This means that, instead of having the customer purchase an expensive modem, they might sign a contract for one to two years and only pay for the services received, plus a small percentage of the usage fees. The target market for SatCloud are customers that need between 10 to 100 MB of combined traffic. Customers are able to switch subscriptions on a monthly basis, as needed. This service recognizes that many customers don't require high capacity immediately when in start-up mode.
SatCloud is perfect for customers who ideally will grow in the future, but at a particular moment in time, they don't want, or need, to expend the money for equipment if the demand for their services hasn't yet been realized. Basically, customers pay per month for the performance they need, which is definitely a unique selling position for SpaceBridge.
WaveSwitch is a feature in SpaceBridge modems that allows for multiple waveforms to be used, resulting in the ultimate efficiency of bandwidth consumption. Depending on the nature of the traffic, it will automatically switch over to the best suited waveform. SpaceBridge optimizes the full bandwidth without communications being lost. WaveSwitch selects the most optimal waveform, based on the type of application in use. WaveSwitch is, essentially, three types of modems in one — an intriguing proposition.
De-mod 3000 is being presented for the first time at any trade show. This is a Software-Defined Radio (SDR) and provides multi-channel receivers of as many as 96 simultaneous Time Division Multiple Access (TDMA) channels, up to 1,200 Burst-Mode Frequency Division Multiple Access (BM-FDMA) Multi-channels, three of them being Single Channel Per Carrier (SCPC). BM-FDMA is a solid technology for a mix of high and low traffic, is quite versatile, and brings Adaptive-SCPC (A-SCPC), multi-frequency TDMA (MF-TDMA) to the user.
The SpaceBridge C7700 flagship product is an indoor unit that plugs in directly to a network, router, laptop, and so on. The C7700 is a high performance, low-cost offering and is comparable to the typical prices charged for internet access from major providers. With the flagship product, the satellite industry is capable of competing in terms of cost and performance when compared to major existing providers, a first time accomplishment. The service can successfully compete with terrestrial fiber and cable, The price-performance ratio SpaceBridge is able to achieve is due to the firm's low cost of high performance satellites per GB. To keep costs low, the company invests millions of dollar into R&D in order to drastically reduce the component counts in products, all the while also obtaining higher functionality and capacity for their products. SpaceBridge is able to reduce the electronics that are physically on board the unit and accomplish the realization of most services through the timely incorporation and use of applicable software — the key, especially, for SDR
Interview conducted on Friday, September 13, 2019, at 12:00 p.m. at IBC2019 in Amsterdam