[SatNews] "We have been involved with the development of the new DVB-S2X standard since its very notion was suggested within DVB..."

Newtec designer, developer and manufacturer of equipment and technologies for satellite communications, is the first to ship a full portfolio of DVB-S2X modulators, modems, demodulators, hubs and OEM boards.
Newtec, which has initiated the creation of a new satellite transmission standard in DVB, has already demonstrated live transmissions using DVB-S2X since February 2014. Today, existing products can be DVB-S2X enabled through a simple software upgrade: No hardware changes are required.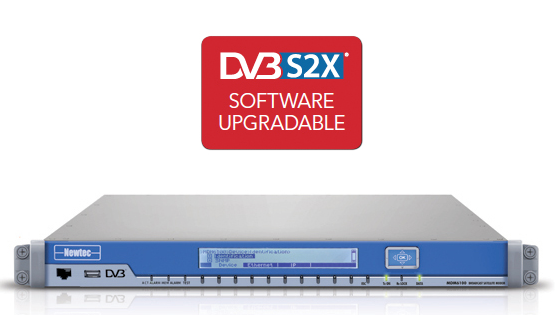 Demo at the DVB Booth DVB-S2X solution on the DVB booth at IBC Hall 1 D81. During IBC Newtec together with other DVB members will be showing the capabilities of DVB-S2X products in a demonstration on the DVB booth (Hall 1 D81). The DVB-S2X demonstration will highlight the new standard that offers spectral efficiency gains of up to 50 percent for professional applications. DVB-S2X will be used in the demo, together with other new technologies such as HEVC, to deliver four 4K Ultra High Definition Television (UHDTV) signals at a data rate of 100 Mbit/s.

DVB-S2X provides more choice for roll-off factors as well as additional modulation and coding options that allow for the more efficient use of satellite transmission channels. It enables channel bonding of up to three satellite carriers, which support higher aggregate data rates and allows for additional statistical multiplexing gain for services such as UHDTV.

"We have been involved with the development of the new DVB-S2X standard since its very notion was suggested within DVB and are very pleased to see it on the IBC exhibition floor, being demonstrated as such a success," said Dirk Breynaert, CTO of Newtec. "We are proud to be pioneers for increased standardization and improved efficiency for the entire satellite sector."

Automated Equalink® technology is also enabled on each of Newtec's products, offering an even better link margin and more efficient transmission on top of DVB-S2X. The Newtec gear also comes DVB Carrier ID (DVB CID) enabled.

During the last two years, Newtec has been involved in a number of 4K UHDTV demonstrations around the world including the world's first using DVB-S2X for a UHDTV satellite modulation in June 2014.

Pace and Ericsson technology will also be used in the DVB demonstration at IBC. Check out more about Newtec here.