KVH Industries, Inc.'s, (Nasdaq: KVHI) announced that their new TracPhone® V11-HTS is the world's fastest 1 meter Ku/C-band maritime VSAT antenna, that delivers data speeds as fast as 20 Mbps down/3 Mbps up to commercial maritime vessels and superyachts around the world. These high speeds are critical for services such as videoconferencing, video chat, telemedicine, web browsing, and allocated crew usage.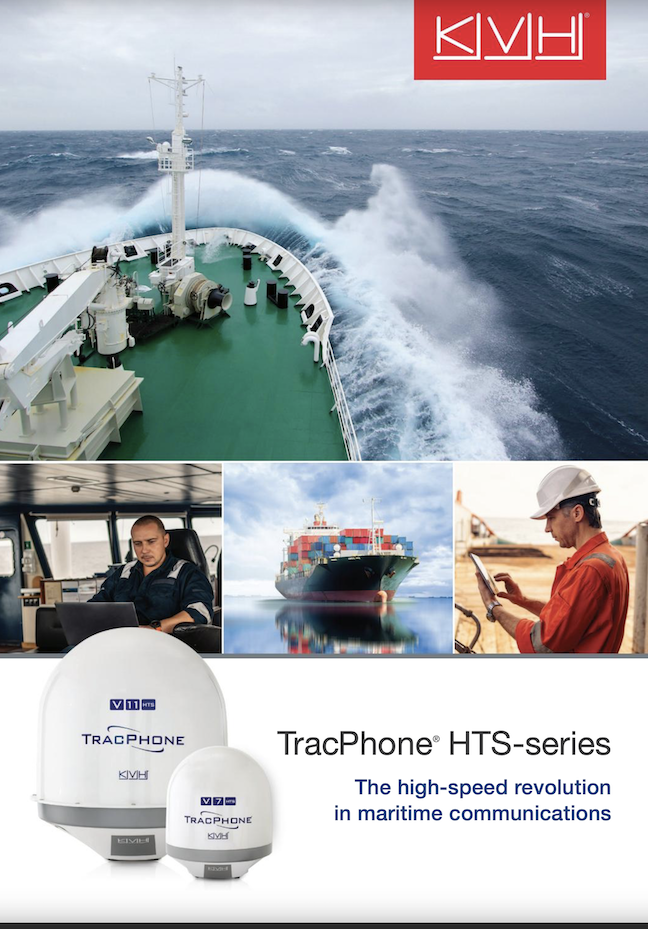 Because of the demands of Internet of Things (IoT) applications, and crew connectivity these fast data speeds are necessary to support the critical needs of commercial ships' operations. Additionally, superyacht guests appreciate the fast connectivity for streaming HD content and accessing internet and social media platforms at sea.
Designed, engineered, and manufactured by this mobile tech company, KVH, the TracPhone V11-HTS offers a dual Ku-/C-band design with automatic switching to deliver expanded global coverage, including Northern and Southern latitudes, and reliable connectivity, even in extreme weather. In addition, the antenna system features the Integrated CommBox Modem (ICM), a streamlined belowdecks unit including high-throughput modem, Voice over IP (VoIP) adapter, CommBox™ network management software, and built-in Wi-Fi and Ethernet. The ICM also receives onboard news, entertainment, and operations content sent via KVH's IP-MobileCast™ content delivery service.
Another feature of the TracPhone V11-HTS is its two-channel configuration, enabling users to experience both a high-speed data channel and an unlimited-use data channel from a single maritime VSAT antenna. With data speeds as fast as 20/3 Mbps down/up, the high-speed channel is suitable for videoconferencing, video chat, telemedicine, web browsing, and allocated crew usage. With data speeds as fast as 8/2 Mbps down/up, the unlimited-use channel is suitable for IoT data transfer, email, software updates, automated file transmission, weather updates, and unallocated crew usage. To help vessels manage their data usage, KVH also provides the mini-VSAT Manager suite of tools to set usage alerts, provide data consumption reports, and assign data allowances all via a secure online portal.
The TracPhone V11-HTS is designed for KVH's mini-VSAT Broadband HTS network, which utilizes Intelsat's Flex Maritime service to deliver multi-layered Ku-band coverage, enabling vessels to see multiple HTS and wide beam satellites for maximum availability of broadband service; the network also uses additional capacity from SKY Perfect JSAT. In addition, the TracPhone V11-HTS utilizes Intelsat's global C-band capacity for expanded maritime coverage.
For commercial fleets, the TracPhone V11-HTS is also available as part of KVH's innovative AgilePlans®, a subscription-based Connectivity as a Service program that includes, for one monthly fee:
global connectivity
VSAT antenna with free installation in select ports
training and daily news content delivered via satellite
delivery of chart and weather content
Martin Kits van Heyningen, chief executive officer of KVH commented that with the TracPhone V11-HTS, they continue to bring innovative solutions to the maritime market, enabling commercial vessel operators to take advantage of the many benefits of VSAT, such as IoT applications and business efficiency, while yacht captains can offer guests onboard KVH's fastest connectivity at sea. From their advanced mini-VSAT Broadbandsm HTS network to their 24/7 tech support, their superior connectivity solution makes broadband at sea seamless.
The TracPhone V11-HTS adds to KVH's HTS family of maritime VSAT antennas, which includes the 60 cm diameter, Ku-band TracPhone V7-HTS and the 37 cm diameter, Ku-band TracPhone V3-HTS. The variety in KVH's HTS antenna family provides a system suitable for nearly any size boat, yacht, or ship—from a 30-foot sportfishing boat used along the coast, to a 150-foot superyacht cruising in the Mediterranean, to a 1,000-foot freighter traveling the world's shipping routes.