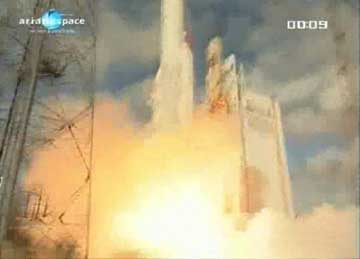 [SatNews] Rascom-QAF1R and Nilesat 201 telecommunications satellites, designed and built by Thales Alenia Space, dedicated respectively to RascomStar-QAF and NILESAT satellites operators, have been successfully launched from Kourou in French Guiana by an Ariane 5 ECA rocket.
These two satellites will
develop communication services over Africa. They weighed 772 tons at lift off!
Emmanuel Grave
,
Executive Vice President for Telecom
activities, Thales Alenia Space notes: "This launch is an
important milestone for the African continent as both satellites will provide Direct TV and radio broadcasting services as well as Internet access and value-added broadband services
." He adds: "Arianespace has carried out three launches* with Thales Alenia Space satellites since the beginning of the year, and our collaboration will continue in the fall:
Ariane is scheduled to orbit a communications satellite from Kourou, while Soyuz will launch the first batch of Globalstar Second Generation satellites from Baikonur"
.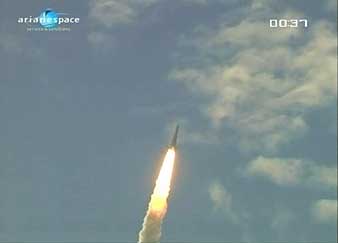 Nilesat 201 will enable the Egyptian satellite operator NILESAT to ensure service continuity in delivering digital Direct to Home (DTH) TV, radio broadcasting and high-speed data transmission services to the North Africa and the Middle East starting in September 2010.
Built on a
Spacebus 4000B2 platform
, Nilesat 201 is fitted with 24 Ku-band and 4 Ka-band transponders. It will be positioned at 7 degrees West longitude and offers a design life of 15 years. Weight at launch is 3,200 kg, and it will generate 5.9 kW of payload power at end-of-life.
RASCOM-QAF1R will ensure service continuity for the operator RascomStar-QAF and its customers, providing low cost international connections between African countries and connecting isolated villages via low cost terminals.
Based on the
Spacebus 4000B3 platform
, the RASCOM-QAF1R satellite is equipped with 24 equivalent 36 MHz transponders in both Ku-band and C-band. It will weigh about 3,050 kg at launch, and provide 6.4 kW of power at end-of-life. Positioned at 2.9 degrees East longitude, RASCOM-QAF1R will cover the African continent, as well as parts of Europe and the Middle East.