[SatNews] The U.S. Air Force has announced that U.S. Strategic Command operationally accepted command and control of its third Wideband Global SATCOM satellite, WGS-3.
This significant achievement reflects the successful collaboration between numerous organizations, including
Air Force Space and Missile Systems Center
,
Air Force Space Command
,
Army Space and Missile Defense Command/Army Forces Strategic Command
, and the
Boeing Company
.
WGS
provides flexible, high-capacity communications for marines, soldiers, sailors, and airmen throughout the world and is a key enabler of
Command and Control
,
Communications
,
Computers
,
Intelligence
,
Surveillance
, and
Reconnaissance
, as well as battle management and combat support information functions.
WGS-3
is the third of six planned satellites in the wideband constellation.
WGS-3 launched from Cape Canaveral on the evening of December 5, 2009. The
Military Satellite Communications Systems Wing
at
SMC
accepted delivery of WGS-3 from Boeing on March 1, 2010, following extensive ground and in-orbit testing. WGS-3 was then relocated to its final operational location. WGS-3's payload configuration is now optimized to support operations. Upon the recommendations of
AFSPC
and
SMDC/ARSTRAT
,
USSTRATCOM
accepted
Combatant Command
authority for WGS-3 and assumed responsibility of the system.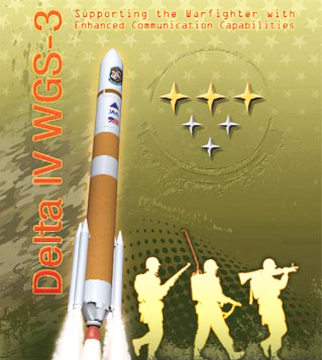 WGS-3 is operated by the
3rd Space Operations Squadron
at the
50th Space Wing
,
Schriever Air Force Base
, CO, under the operational command of
Joint Forces Component Commander for Space
at
Vandenberg Air Force Base
, CA. The JFCC SPACE Joint Space Operations Center continuously monitors WGS-3's orbital safety and operational status, assisting USSTRATCOM with any performance issues
WGS-3 provides a bridge between CONUS and our forces in Europe, Africa, South America and parts of the Middle East as well as forces afloat in the Atlantic Ocean. WGS-3 is the last satellite to be procured via the
Block I
contract and is a significant milestone for the program.