Delayed by a second stage battery check, the launch of WorldView-2 occurred at 11.52 a.m. PDT at Vandenberg AFB, California, making DigitalGlobe the only commercial world-imagery provider with high-resolution, eight-band multispectral capability.
United Launch Alliance provided the launch services for this mission on behalf of Boeing Launch Services. Delta II rockets previously launched both the Quickbird-2 mission in October 2001 and the WorldView-1 mission in September 2007 for DigitalGlobe.
The additional multispectral band capability of
WorldView-2
is expected to enable
higher levels of feature identification and extraction and more accurately reflect the world's natural color
, with the potential to benefit many applications, including
environmental monitoring, change detection, and defense and intelligence
.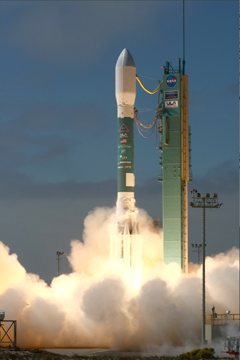 Photo on right: Vandenberg AFB, Calif. (Oct. 8, 2009) – A United Launch Alliance Delta II rocket, on behalf of Boeing Launch Services, blasts off from Space Launch Complex-2 with the DigitalGlobe WorldView-2 spacecraft at 11:51 a.m. PDT today. The Delta II successfully deployed WorldView-2 into a sun-synchronous orbit where the spacecraft will perform its mission of collecting high resolution commercial digital Earth imagery from space. (Photo by Bill Hartenstein, The Boeing Company)
DigitalGlobe
is a global provider of commercial, high-resolution, world imagery products and services. Sourced from their own advanced satellite constellation, DigitalGlobe's imagery solutions support a wide variety of uses from mapping and analysis to navigation technology. With advanced collection sources, a comprehensive ImageLibrary and a range of online and offline products and services, clients are able to access and integrate imagery seamlessly into business operations and applications.
With a
mission life of 7.25 years, and operating at an altitude of 770 km
, the WorldView-2 system is expected to bring agility, capacity, accuracy and spectral diversity to commercial earth imaging.
WorldView-2 Quick Stats
Resolution: 50 cm
Swath Width: 16.4 kilometers at nadir
New Spectral Bands: coastal, yellow, red edge, Near-IR2
Collection Capacity: 975,000 sq km/day
Slew Time: 300 km in 9 seconds
Average Revisit: 1.1 days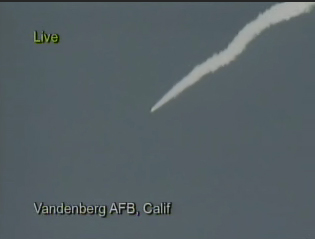 Greater Agility
WorldView-1
and
WorldView-2
are the first commercial satellites to have
control moment gyroscopes
(
CMGs
). This high-performance technology provides acceleration up to 10X that of other attitude control actuators and improves both maneuvering and targeting capability. With the CMGs, slew time is reduced from over 60 seconds to only 9 seconds to cover 300km. This means WorldView-2 will be able to rapidly swing precisely from one target to another, allowing extensive imaging of many targets, as well as stereo, in a single orbital pass. Higher Capacity/Faster Revisit
With its improved agility, WorldView-2 will be able to act like a paintbrush, sweeping back and forth to collect very large areas of multispectral imagery in a single pass. WorldView-2 alone will be able to collect nearly 1 million sq km every day, doubling the collection capacity of our constellation to nearly 2 million sq km per day. And the combination of WorldView-2's increased agility and high altitude enables it to typically revisit any place on earth in 1.1 days. When added to our constellation, revisit time drops below one day and never exceeds two days, providing the most same-day passes of any commercial high resolution satellite constellation.
Better Accuracy
WorldView-2's advanced geopositional technology is allowing for significant improvements in accuracy as well. The accuracy specification has been tightened to 6.5m CE90 right off the satellite, meaning no processing, no elevation model and no ground control. With WorldView-1, and anticipated for WorldView-2, the measured accuracy is coming in at a remarkable 4.1m CE90.
Most High Resolution Spectral Bands
WorldView-2 will provide the only high resolution 8-band multispectral commercial satellite imagery available. Along with the four typical multispectral bands: Blue (450-510), Green (510-580), Red (630-690) and NearIR (770-895), WorldView-2 is introducing the following new color bands for enhanced multispectral analysis:
Coastal Band (400 - 450 nm)
This band supports vegetation identification and analysis, and supports bathymetric studies based upon its chlorophyll and water penetration characteristics. Also, this band is subject to atmospheric scattering and will be used to investigate atmospheric correction techniques.
Yellow Band (585 - 625 nm)
Used to identify "yellow-ness" characteristics of targets, important for vegetation applications. Also, this band will assist in the development of "true-color" hue correction for human vision representation.
Red Edge Band (705 - 745 nm)
Aids in the analysis of vegetative condition. Directly related to plant health revealed through chlorophyll production.
Near Infrared 2 Band (860 - 1040 nm)
This band overlaps the NIR 1 band but is less affected by atmospheric influence. It supports vegetation analysis and biomass studies.
(
Video of the launch at Vandenberg AFB courtesy of ULA, BOEING and DigitalGlobe
)